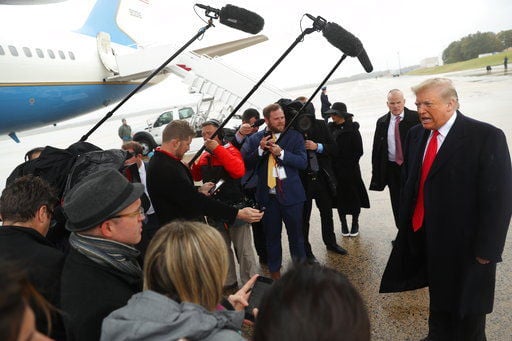 In its final days, the Trump administration reached a new low in efforts to stifle press freedoms. It waged a court battle — entirely in secret — to force the handover of New York Times and CNN reporters' email logs that could reveal who their sources were. Because of a gag order, Times and CNN editors and reporters were not allowed to know what was happening so they could defend themselves. For a while, even Times lawyers weren't allowed to know, which prevented them from challenging an egregious violation of First Amendment rights.
The Biden administration continued to enforce the Trump policy until March. Only then would the reporters involved — and the American public — know the full extent of the government's unprecedented intrusion. We understand the position taken by Republican as well as Democratic administrations that leaks of classified information need to be investigated to protect national security. But too much surrounding this episode smacks of retaliation or an attempt by then-President Donald Trump to find out who might have tried to embarrass him. The use of government surveillance and seizure powers to monitor reporters' activities is a chilling affront to one of the nation's most cherished freedoms.
The Times, like many businesses, contracts with Google to provide email services for its employees. The Trump Justice Department won a court order requiring Google to hand over email logs for four Times reporters after already having seized months of the reporters' phone records dating back to early 2017, the newspaper reported. The government also targeted reporters from CNN and The Washington Post.
A court gag order imposed on Google prevented the company from informing anyone at the Times. Google argued in court that it was contractually obligated to inform a Times lawyer of the government intervention. But then the gag order was imposed on lawyers for the Times and CNN, preventing them from informing their own clients.
Such sweeping government powers to gag lawyers and seize records without notifying the targeted reporters in advance — leaving them no ability to challenge it in court — is without precedent. The date range of the email records sought by the Trump Justice Department coincides with reporting of classified information explaining investigations by then-FBI Director James Comey of Russian election interference during the 2016 presidential campaign. Russians were believed to be behind efforts to expose details of FBI investigations into Democratic candidate Hillary Clinton's use of a private email server for official government business when she was secretary of state.
The reporting may have touched on a sore point for Trump because of the likelihood that he wouldn't have won in 2016 without Russia's help. Given his treatment of the Justice Department as his personal lawyer, the government surveillance of reporters bears all the hallmarks of a sinister and egregious abuse of powers.