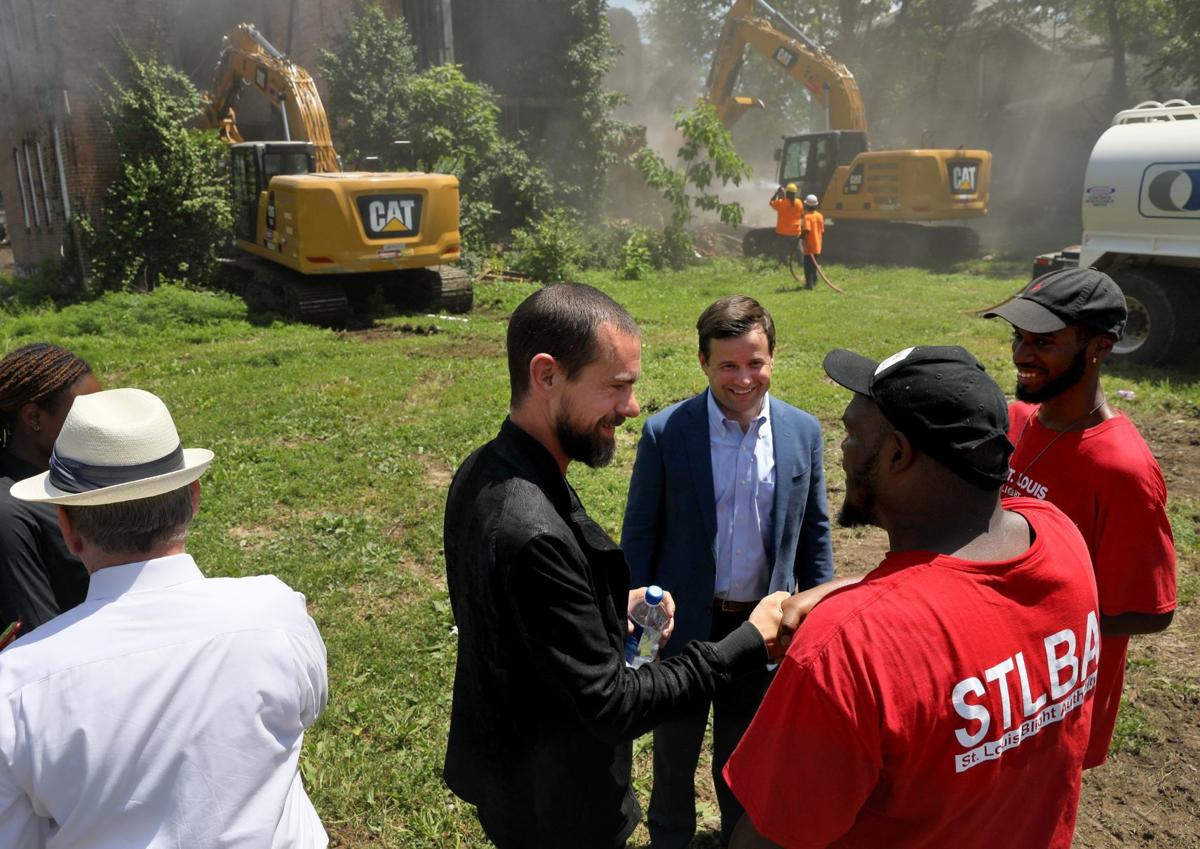 The naysayers were quick to pounce after billionaires Jack Dorsey and Bill Pulte came to town last month and launched a nonprofit effort to revitalize one of north St. Louis' most downtrodden neighborhoods. The effort started with demolitions of unsalvageable buildings in the Wells-Goodfellow neighborhood, which Pulte told us was only the start of an effort to rally the St. Louis business community into larger-scale involvement to fill those empty spaces with new investment.
A prominent member of the business community called to complain that an editorial lauding businessman Pulte and Dorsey, of Twitter and Square fame, failed to mention that several construction companies have been active in north St. Louis for the past year, contributing $1 million in equipment and labor to demolish crumbling buildings. Duly noted.
Urban-development activists endorsed a complaint that we appeared to be lauding wanton bulldozing of buildings as a solution to blight. If rich people really want to help, why don't they do something to breathe new economic life into those areas, not just demolish buildings? In fact, that's exactly what Dorsey, Pulte and the others are doing.
These efforts aren't just grandstanding and self-congratulatory gestures by successful people who want to feel good about themselves. The reason we can write this with confidence is this week's announcement by the co-founders of Square — St. Louis natives Dorsey and Jim McKelvey — to move all 500 of Square's St. Louis employees into the 900 North Tucker building soon to be vacated by the Post-Dispatch.
The investment firm StarLake Holdings, in which McKelvey is a partner, purchased the Post-Dispatch building last year for $3.5 million. What they do with the building once the newspaper moves to a nearby location is their business. But the statement they're making speaks volumes about a commitment to the long-term success of St. Louis.
Square currently operates in the thriving midtown Cortex tech district. In sharp contrast, the Post-Dispatch building sits on the struggling northwest edge of downtown. Where we have spent years looking out on homeless encampments and the fringes of blight, these investors see an opportunity to breed the same kinds of success that transformed Cortex. It wasn't so long ago that Cortex was in a similar situation. Today, Cortex has waiting lists, with vacancy rates as low as 1%.
Can they breathe that kind of vibrancy into the downtown area as well? Given their investment track record so far, this looks like a safe bet — especially considering construction of the $1.75 billion National Geospatial-Intelligence Agency western headquarters barely a mile to the northwest, along with dozens of geospatial startup ventures now gearing up.
None of this will instantly transform north St. Louis, whose blight was decades in the making and will take decades more to fix. But it certainly beats sitting around complaining.