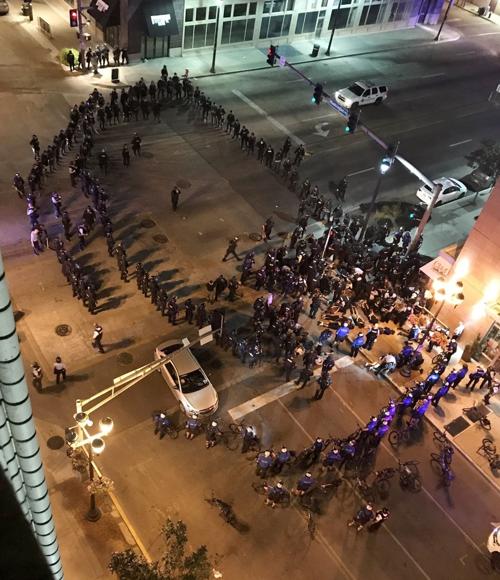 Justice was not served in Monday's mixed verdict in the case of blatant abuse committed by fellow officers against Black St. Louis police Officer Luther Hall, who was working undercover at the time. The three white officers on trial, plus two who had already admitted guilt, responded with gusto when the opportunity arose on Sept. 17, 2017, to bust some heads and inflict their own version of street justice against civilians protesting police violence. The fact that Hall is Black, and that he suffers permanent disabilities from injuries at the hands of fellow officers while doing his job, adds a particular sting to this verdict.
The jury's decision serves only to boost the sense of impunity that seems to run rampant these days in urban policing. It came at a particularly tense national moment as the trial began in Minneapolis against a white officer, Derek Chauvin, who was recorded on video crushing his knee down on the neck of Black detainee George Floyd for more than nine minutes until Floyd died.
These are two exemplary cases in which the evidence and witness testimony of abuse is undeniable. Yet the propensity of jurors to side with police in the line of duty leaves an enormous question mark on prosecutors' ability to hold officers consistently accountable under the very laws those officers are supposed to be enforcing.
Monday's verdict prompted well-justified statements of outrage from Black leaders.
"When we're telling you that there is a problem, listen to us! We're telling you. We're screaming this …," a visibly frustrated Heather Taylor, former president of the Ethical Society of Police, shouted as she spoke to reporters. She described America as tolerating "two different systems" of justice and made clear that Hall, as a Black officer and victim, doesn't benefit from the same system that applies to his white counterparts.
"They had text messages talking about assaulting protesters," she said of evidence introduced during the two-week trial. "America keeps telling us Black folks, 'Why don't you get your education? Why don't you do something noble?' ... We educate ourselves. We do all of the things that you're asking us to do … And when we're the victims of crime, this is what we get?"
U.S. Rep. Cori Bush, D-St. Louis, tweeted: "If an undercover cop can't get justice, how will the rest of us who have been maced, shot, beaten, and brutalized ever get justice?"
For the racial profile of St. Louis policing to more closely match the community it serves, hundreds more Black officers must be recruited to serve. But when this is the justice meted out to a serving Black officer, while white officers close ranks to help their abusive colleagues get off the hook, no one can blame potential minority recruits for walking quickly in the opposite direction.