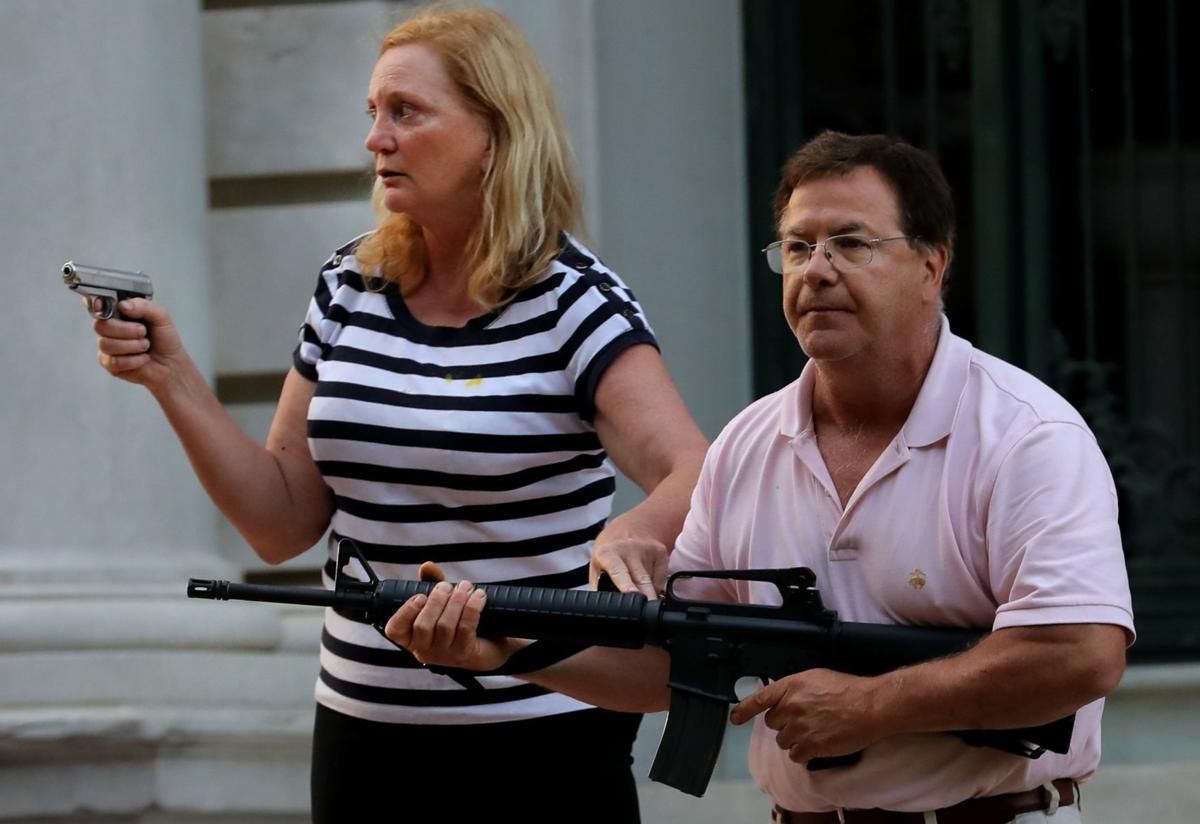 Another silly man has filed to run for the GOP nomination for U.S. senator from Missouri. On Tuesday, Mark McCloskey, one half of the gun-waving duo who pointed guns at protesters marching through their posh Central West End neighborhood last summer, announced he's going to try to turn his 15 minutes of infamy into a political career. Instead, he will further embarrass a state that's already filled to the brim with embarrassing politicians seeking national attention.
McCloskey joins disgraced former Gov. Eric Greitens and Attorney General Eric Schmitt in a weird contest to see which of these urban dwellers with privileged roots can do the best impersonation of a rural Donald Trump supporter. Could an authentic, principled person please step up and save Missouri from fraudsters and opportunists?
Announcing his candidacy, McCloskey portrayed himself as a defender of truth and decency by calling out what he termed the "lie" of systemic racism. Almost in the same breath, he invoked his own lie about an angry mob that would have destroyed his house and killed him and his wife.
This, of course, did not happen. Had he not come outside his mansion waving an assault rifle as protesters were marching through his neighborhood toward then-Mayor Lyda Krewson's house, the couple would never have been bothered. But he and his wife, Patricia, managed to successfully spin the incident into a brave struggle for survival. Their right-wing fame was further bolstered by St. Louis Circuit Attorney Kim Gardner's botched prosecution of them. They even landed a prime time speech at the Republican National Convention last year.
McCloskey must've been paying close attention at the convention, because he hit all the Trump talking points in his 3½-minute campaign video. Big tech, big business and "the swamp" in Washington are all out to get conservatives, the mansion-dwelling McCloskey asserts, dressed like a farmer as he's shown carrying bales of hay around someone's rural property.
In a series of racial dog whistles, he declares that people on the left are out to "destroy our culture and our heritage." Showing images of dilapidated buildings in north St. Louis, he says he has seen what the future of America will be if people like him don't stand up. Walking past staged yard signs for Gardner and Rep. Cori Bush, along with others calling to defund the police or touting Black Lives Matters, McCloskey warns "the mob is coming for all of us."
McCloskey's campaign seems to be built around an awful cynicism about the state of American politics today. But in truth, it's no less cynical than now-Sen. Josh Hawley dressed in blue jeans and cowboy boots, campaigning on a trailer loaded with hay. These are strawman politicians who deserve to be blown away with the wind, if only a more sane candidate would step into the mix.