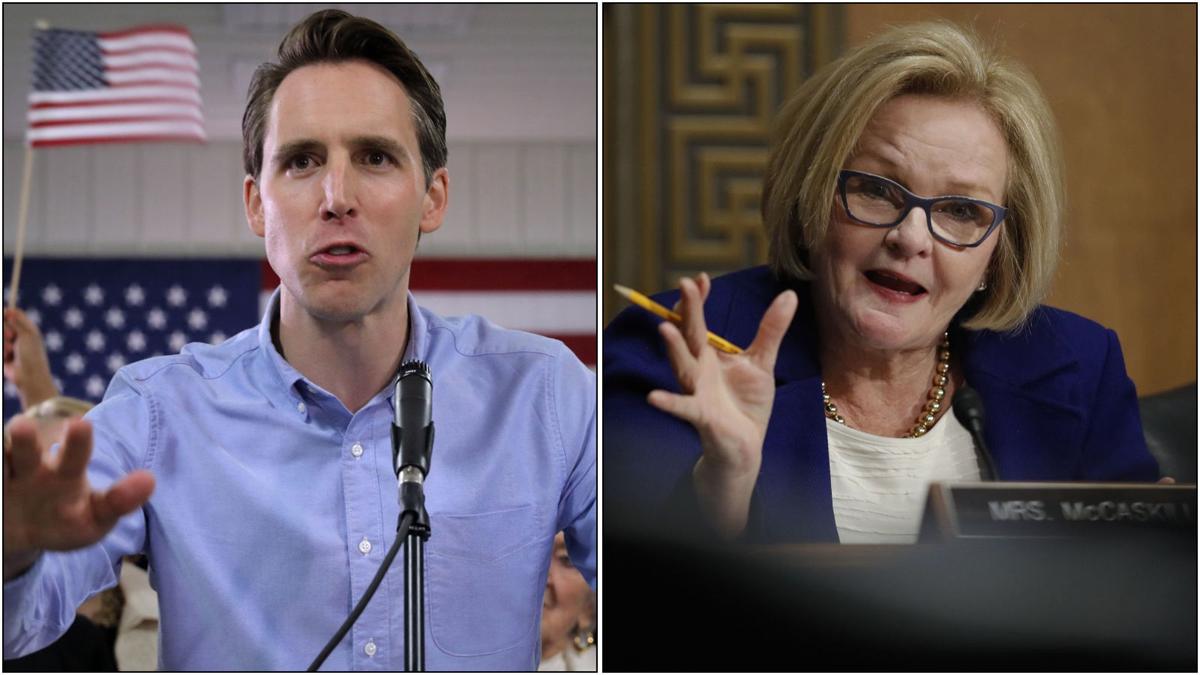 Missouri Attorney General Josh Hawley, the likely GOP U.S. Senate nominee, miscalculates by focusing his campaign strategy on attacking incumbent Democratic Sen. Claire McCaskill, portraying her as a flaming leftist out of touch with Missouri's mainstream. McCaskill's voting record is about as centrist as it gets, and Hawley knows it.
His exaggerations, primarily aimed at pressuring her ahead of the Senate confirmation vote of Supreme Court nominee Brett Kavanaugh, mask a much more profound weakness in the young attorney general's background: his own lack of experience. He has minimal credentials with which to convince voters that he can be more effective as a senator than McCaskill. So his only option is to deflect. Missourians shouldn't fall for it.
Hawley, 38, was barely a year into his first elective office as attorney general before being tapped to run for Senate. His record as attorney general has been only mildly impressive. He was a latecomer in challenging the multiple abuses that put then-Gov. Eric Greitens on a track toward impeachment. Hawley seemed conflicted on where to focus his energies — on running for Senate, or actually doing his job.
He made up for that deficit by aggressively investigating Greitens' allegedly abusive 2015 affair with a St. Louis hairdresser and the governor's misuse of charity resources to advance his political campaign. Hawley soft-pedaled a third probe, related to blatant Sunshine Law abuses, causing the case to disintegrate. Even when he was willing to go after Greitens, Hawley waited until it was politically safe to do so, after key GOP legislators had already made clear their intentions to pursue Greitens' misconduct aggressively.
GOP hardliners in Missouri who voted overwhelmingly for President Donald Trump no doubt will be delighted with Hawley's attacks on McCaskill. He is mistaken, however, if he believes those hardliners represent the Missouri mainstream.
The latest Axios/Survey Monkey poll shows McCaskill with 49 percent support among would-be voters against 47 percent support for Hawley. A similar Axios poll in March showed Hawley with an 8 percentage point lead. Hawley also miscalculates that the state's 2016 support for Trump, by a 20-point margin, translates into Missourians' Senate preferences. In that same election, incumbent GOP Sen. Roy Blunt squeaked by with 49 percent of votes against 46 percent for Democrat Jason Kander.
Mainstream Missourians are far more selective and centrist in their Senate choices than Hawley gives them credit for. "Our way of life," as he phrases Missouri values, is far from the hard-right side of the political spectrum.
If Missourians are souring on Hawley, it probably reflects their revulsion with Trump's extremist rhetoric and Hawley's refusal to challenge it. They want to know what he stands for.
If Hawley wants to move his sagging poll numbers, he'll need to move away from the extremist fringe and give Missouri's mainstream something of substance to chew on.