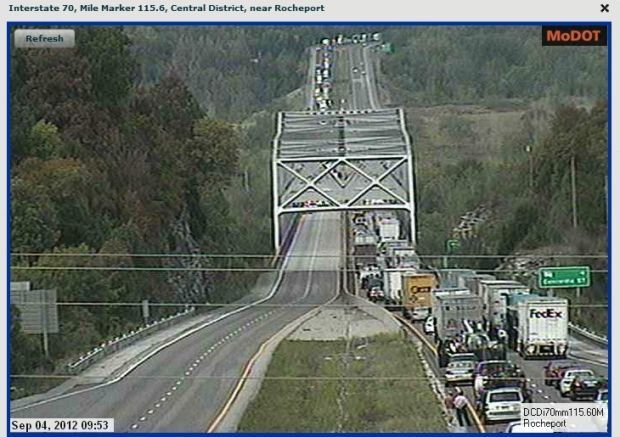 The Missouri Highway and Transportation Commission is scheduled to vote today on how it would spend $4.8 billion over the next 10 years if voters approve a three-quarter-cent transportation sales tax on Aug. 5.
This is very exciting. It's sort of like the day after Halloween, when Christmas catalogs start to arrive in the mail. The kids sit down on the floor with a marker and circle the expensive toys they'd like to have. And not just the kids! Mom might tear out the page with the lovely cashmere sweater on it. Dad might swoon over the massaging rocker-recliner-flat-screen-TV-cum-beer-keg in the Sharper Image catalog. Everything's cool until January, when the credit card bills arrive.
Thanks to David Lieb of the Associated Press, who obtained a copy of the highway commission's updated draft project list, we have some idea of the baubles that the tax money would pay for. Most of them are standard highway projects, the most expensive ones being a $500 million widening and reconstruction of Interstate 70 between Wentzville and Independence and $350 million worth of work on Interstate 270 in north St. Louis County.
However, there are more exotic projects on the list. A one-third match for a $72 million Katy Trail-like biking and hiking corridor in Jackson County. A $124 million allotment for a streetcar line in Kansas City and a $35 million down payment on a central corridor streetcar line in St. Louis. The city's "wish list" is heavy on alternate transportation projects, allurements for hip urbanistas. They include not just a streetcar line, but $72 million worth of "complete streets" (reducing vehicle lanes, adding bicycle lanes and sidewalks), public transit projects and bike trails.
Back on June 1, trying to beat the rush, we offered 10 good reasons to vote no on the transportation sales tax that will appear as Amendment 7 on the Aug. 5 ballot.
We called it an abomination. We said a general sales tax is regressive because it falls most heavily on the poor and working poor. We said it would distort the state's priorities and shift its overall tax burden, particularly as the Legislature has given a big tax cut to wealthy business owners. We said it gives trucking companies, whose vehicles do most of the damage to Missouri's roads and bridges, a free ride. We went on and on.
Nothing in the highway commission's project list changes our minds. Missouri's roads and bridges need work, no doubt about it, as do the state's construction trades. The economy needs a boost and as Missouri looks west to Kansas, it's ever more obvious that cutting income taxes won't provide it. Until now, the state has shamelessly ignored public transit, and this tax would start to remedy that.
But the fundamental problem remains: A general sales tax is the wrong way to fund transportation needs. True, the tax would not be levied on groceries and prescription drugs, but that's like saying we'll only beat you up a little bit.
In a state where the median household income actually fell in 2012 (the latest year available) to $45,321, too many families already have trouble paying for basic necessities. In the city of St. Louis, where median household income in 2012 was $31,997 and where 29.3 percent live in poverty, another 7.5 cents on every $10 purchase would hurt. Total sales taxes would raise the price of a $50 pair of shoes to $55.
Aside from the fundamental unfairness of the general sales tax, the biggest problem with Amendment 7 is that it lets trucking companies off the hook. A study done in California in 1976 estimated that trucks cause 99 percent of all damage done to highways and bridges.
In a meeting with the Post-Dispatch editorial board, Tom Shrout, the former head of Citizens for Modern Transit, said, "I don't understand how you can have a transportation proposal that is primarily highway oriented and the trucks don't pay anything. How does that happen?"
Mr. Shrout is a smart man. He knows how it happened: The trucking industry, with allies in the agriculture industry, has a lot of influence in the Legislature. If you run a Peterbilt truck with a 150-gallon fuel tank, a 20-cents-a-gallon increase in the fuel tax is going to cost you an extra $30 every time you fill up.
Right now, MoDOT is funded almost exclusively by fuel taxes, the 17-cent state tax and a share of the 18.6-cent federal fuel tax that funds the Highway Trust Fund. Those taxes haven't kept up with inflation, nor with the fact that vehicles now go farther on a gallon of fuel.
The trucking industry has said that if fuel taxes go up, the extra costs would have to be passed along to the customers who pay whatever the truck is hauling. Fine. Pass them on. That's fair. A general sales tax isn't. Vote no on Amendment 7.