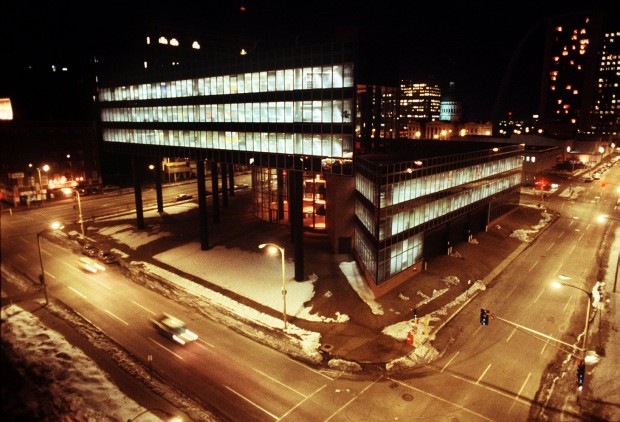 So if, over the next 23 years, a company and its employees in one building in the city will pay an average of $1 million a year in city earnings and payroll taxes, and you move those employees to a different city building, can you declare half of those earnings/payroll taxes — $11.5 million — to be "new" revenue to help pay for fixing up the second building?
Does it make a difference if Building No. 2, the one to be fixed up, has been sitting empty in the heart of downtown for 10 years and is regarded as an architectural masterpiece and listed on the National Register of Historic Places? Do you bend the rules and strip money from a strapped city budget so you can eliminate an embarrassing eyesore?
These are questions that the St. Louis Board of Aldermen will soon have to answer. Last week the city TIF commission voted 4-0, with one abstention, to approve the redevelopment plan for the General American Life Insurance Building at 706 Market Street.
City taxpayers are being asked to bear $8.1 million, or 17.5 percent, of the $46.4 million cost of fixing up the building. The developer, the Koman Group, hopes the project also will qualify for nearly $8.6 million in state and federal historic tax credits. That would bring the public participation to $16.7 million, or about 36 percent of the project's cost.
Koman hopes to lease the building as a headquarters for the Laclede Group, parent of the Laclede Gas Co. Laclede would vacate space it currently occupies three blocks north at 720 Olive Street. While Laclede hasn't publicly committed to the deal, it has hinted it might look outside of downtown for its headquarters if the deal falls through.
Ah, the old "we're going to move out of downtown" ploy.
Under the terms of the draft proposal approved by the TIF commission, roughly half of the public money used to finance the TIF bonds would come from the increase in property taxes that the fixed-up General American building will generate. State law allows developers to make payments in lieu of taxes (PILOTS) to the TIF bond account for 23 years. After that, the city keeps the property taxes.
The other half of the money would come from diverting 50 percent of the taxes on "economic activities" at the fixed-up building. In the case of the GenAm project, these are almost exclusively earnings and payroll taxes.
Laclede and its 450 employees who work on nine floors at 720 Olive already pay the 1 percent city earnings and payroll tax. If they move to 706 Market, they'll continue paying that tax, but the TIF law allows developers to capture half of new revenue — the increment — created by the project.
In fact, the General American building won't be creating any new payroll or earnings tax revenue at all unless Laclede hires more people or increases its payroll. Whatever is gained at 706 Market will be lost at 720 Olive.
The upshot is that an average of $503,000 a year over the next 23 years that otherwise would have gone into the city general revenue fund — to pay for niceties like police officers — will help pay for nice offices for Laclede Gas.
When Missouri passed its TIF law in 1982, the intent was to entice housing developers into "blighted" neighborhoods. Paul McKee's proposed NorthSide Regeneration is an example of the TIF law being used in the way it was intended.
Over the years, the definition of blight contained in state law has been stretched past the breaking point, mostly to accommodate big-box retail developments. Farm fields have been blighted as have upscale shopping malls. Cities have been pitted against other cities; the net gain in new jobs is near zero.
The Koman Group, in its TIF application, went to great lengths to demonstrate "blight" at 706 Market. There are color photographs of cracked sidewalks and water damage. There is a photo captioned "Evidence of Homelessness" with an arrow pointing to what appears to be discarded clothing. There are color photos of dead birds.
The TIF Commission was convinced by these claims, but you could ask its members to blight Busch Stadium during a World Series game and they'd go along with it.
Ultimately the aldermen will make a political decision. The GenAm building was designed by Philip Johnson and his partner, John Burgee, two of the more renowned architects of the 20th century. It was built for form, not for function, with lots of energy-inefficient single-pane glass and lots of plazas and dramatic interior space that can't be leased. If Laclede moves into it, the company will gain 8,000 square feet over the 120,000 it currently occupies. Not much room for growth there.
We understand why Koman, and by extension, Laclede, would ask the public to pick up 36 percent of the tab. You don't ask, you don't get. And how else is a regulated utility, one that sells a commodity the price of which is dropping, going to get a fancy look-at-me headquarters building?
This project can be done without whacking the city's budget. The building's owner, Centaur Properties of New York, which is looking at a 50 percent profit on a property it bought for $6.1 million in 2005, could drop the price. Koman is deferring most of its $7.7 million development fee, but it could be trimmed. Laclede could pay higher rent.
Private enterprise should pay its fair share. Historic tax credits are entirely appropriate. From a function point of view, it's a white elephant, but its form should be preserved.
The PILOTS revenue can be justified, too. But for the redevelopment, the property tax would not increase.
But $503,000 a year in earnings taxes is enough to pay salaries and benefits for six or seven more cops. The building is not blighted, dead birds or not. And asking the public to believe that old tax revenue is new tax revenue is simply insulting. The aldermen should say no.