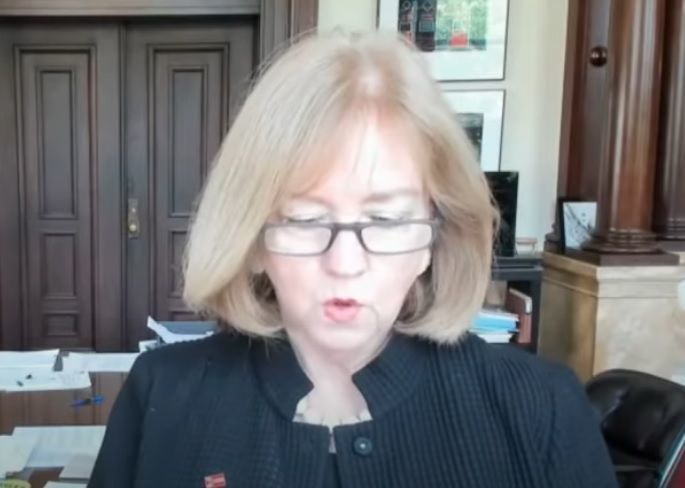 What could Mayor Lyda Krewson possibly have been thinking? On Friday, during a Facebook Live event, Krewson read names and addresses of people who'd called for St. Louis to "defund the police." This newspaper has disagreed with such calls, but that's not the point. It's never acceptable for the city's elected leader to publicly subject individual citizens to potential intimidation or retaliation for practicing their constitutionally protected right to seek redress of grievances from their government.
Krewson's apology didn't go far enough. She must explain more fully why she did this, and she should consider sitting down in person with the people whose addresses she publicized.
A video of Krewson's remarks, made in her office, has since been deleted from the mayor's official Facebook page, but it survives elsewhere online with the protesters' names and addresses silenced out. In the video, Krewson recounts meeting demonstrators outside City Hall in what she said "wasn't really a two-way conversation" because of "a very loud response from the demonstrators."
Then she begins reading, in deadpan fashion, from written papers that some of the demonstrators gave her with their city budget suggestions — most of which include zeroing out police funding.
That isn't a realistic approach to much-needed police reform, and Krewson says as much in the video. But what was the point of publicly reading off the addresses of those making that controversial suggestion?
Krewson's move drew national attention and prompted an online petition drive demanding her resignation. She posted an apology "for identifying individuals who presented letters and comment cards to me at City Hall as I was answering a routine question during one of my updates earlier today. While this is public information, never did I intend to cause distress or harm to anyone."
Yes, letters submitted to the city are public information, but that doesn't mitigate the recklessness of a mayor specifically citing citizens' addresses while discussing such an explosive issue.
The potential for violence was aptly demonstrated Sunday, when protesters who gathered outside Krewson's home demanding her resignation were greeted by a neighboring couple, one of whom brandished a rifle while the other pointed a handgun at the crowd. (Anyone tempted to retort that Krewson's address is public is missing the differing transparency obligations between elected officials and private citizens.)
These tense, angry times require, more than ever, calm and measured leadership from elected officials. Krewson's mistake, stunt, brain cramp — whatever it was — failed that test. And her anemic apology failed to fix it.
Resigning over one blow-up with protesters would be an overreaction. But Krewson owes the protesters and public a better explanation. Her tendency to act first and think later is an ongoing source of concern. If she can't muster the minimal leadership traits required for this job, she should consider forgoing any reelection attempt next year.
Views from the editorial board, opinions from guest and national columnists plus the latest letters from our readers.