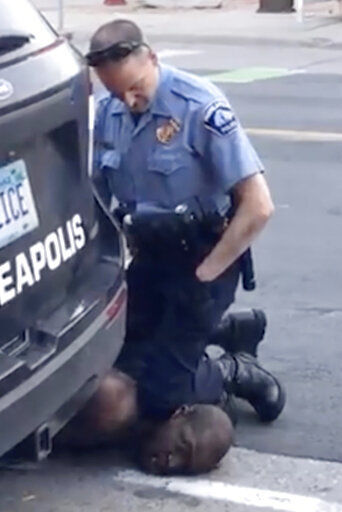 The murder of George Floyd under the knee of a Minneapolis police officer last year would never have caught national attention and spurred the police-reform movement still in play today if not for Darnella Frazier. Though horrified at what she was seeing and scared for her own safety, the 17-year-old bystander held her cellphone camera steadily for more than 10 minutes as the life ebbed from Floyd's body. The resulting video spawned months of national protests, drove continuing reform efforts in Congress and was the key evidence in the murder conviction of police officer Derek Chauvin.
The board of the Pulitzer Prize, American journalism's most prestigious award, has now recognized Frazier with a special citation that highlights not only her immense role in nudging the nation toward reform and justice, but also the changing nature of journalism and media in today's high-tech world.
Floyd's death in May 2020, and the resulting societal upheaval, was in some ways the culmination of a story whose earlier chapters were written in places like Ferguson, with the 2014 police killing of Michael Brown. The deaths of Brown and other Black men and boys at the hands of police in recent years were certainly not a new phenomenon in America, but they were forced into the public view by Black Lives Matter and other protesters determined not to let these injustices continue languishing under America's radar screen.
Even so, many Americans remained reluctant to accept the premise that these tragedies were the result of systemic police racism, pointing instead to the disputed details that accompany many police killings, and chalking others up to a few "bad apples" in uniform.
Frazier's video shattered those comfortable illusions by providing an unblinking visual record of Floyd's slow-motion murder, as Chauvin's fellow officers stood by doing nothing. It also exposed the fraudulence of the first official police description of the murder as a "medical incident during police interaction" — with no mention that the "interaction" consisted of Floyd having his neck compressed for 9 minutes and 29 seconds.
As the video made clear, Floyd's killing was a systemic crime to its core. And it was Frazier's steady, unwavering documentation of it that forced the nation to look. Within months, polls were showing for the first time that most Americans now recognize systemic police racism as the genuine issue it is.
Some have suggested the special citation given to Frazier feels too much like an asterisk, and that the Pulitzer board should create a new category specific to the growing phenomenon of "citizen journalism." That's part of a broader debate the profession will inevitably have to have as more and more of America's national conversation happens outside the realm of traditional media. As Frazier has demonstrated, a citizen with a cellphone today can be as powerful as the world's biggest newsrooms.