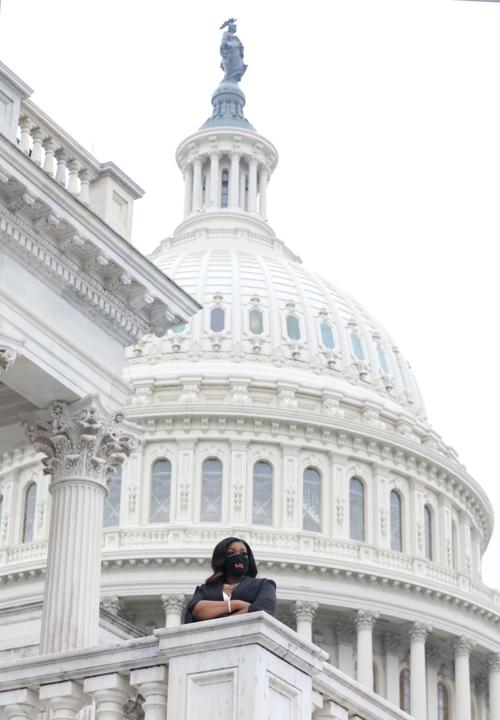 U.S. Rep. Cori Bush's resolution to expel from Congress all 147 Republicans who promoted the stolen-election lie and stood with President Donald Trump despite the Jan. 6 insurrection would deliver exactly what those elected officials deserve for their treachery. But this is a counterproductive idea, and not just because it stands no chance of success. Attempting to expel members of Congress for actions that were technically within the bounds of legality would set a dangerous precedent that could be abused by future congressional majorities.
A more appropriate approach is one supported by other Democrats and even some Republicans of conscience: congressional censure of all House and Senate members who participated in the attack on democracy.
Bush, St. Louis' newly seated Democratic representative in Congress, can be forgiven her outrage at what her colleagues did to her and to democracy. We share that outrage. But one attack on democracy shouldn't be met with another — which is what would result from removing officials who the voters, however unwisely, put in office.
For two months before Trump urged his unhinged followers toward violence and aimed them at the U.S. Capitol, he had devoted almost every waking hour to undermining the sanctity of America's elections. Based on nothing, Trump claimed incessantly that he won by "a landslide" and that the election had been stolen.
Dozens of Republican election officials and judges confirmed that Joe Biden's clear victory was among the cleanest in U.S. history. No matter — constantly repeating the stolen-election lie became its own self-affirming evidence to Trump's faithful. Including, to their eternal shame, 139 House Republicans and eight Senate Republicans who voted against the normally rubber-stamp process of certifying the states' Electoral College votes.
The numbers of Republican backers would have been even larger, but after the Capitol was attacked, some who'd been playing Trump's game came to their senses and voted to certify the results. But Missouri Sen. Josh Hawley, national ringleader for the election-fraud lie, joined five of Missouri's six GOP House members in advancing the challenge based on nothing but innuendo and conjecture.
What they did was unconscionable, and they unquestionably helped motivate the rioters with their advancement of a myth about massive vote fraud.
Under our system of government, though, voters have the right to make the terrible choices that allowed those lawmakers to hold elective office. Overruling those choices as punishment for the abominable but technically legal actions of Hawley & Co. would drag the rest of Congress down to their level.
Absent proof of outright sedition (proof which, we would argue, actually does exist as it relates to Trump himself), the best remedy for Hawley and his cohorts is a bipartisan finger of censure pointed at them. Let the record show that they stand condemned as pariahs in the view of Congress for their role in undermining American democracy.