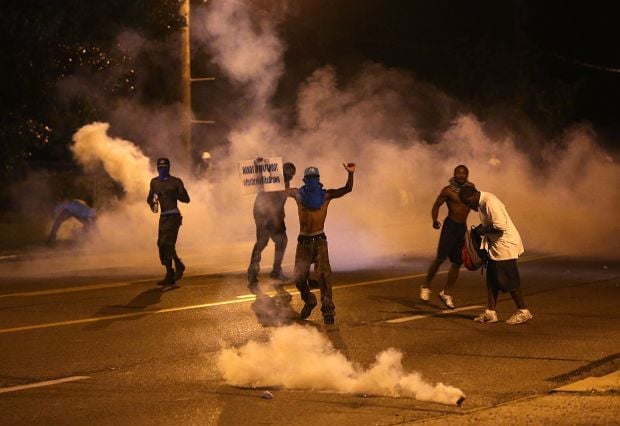 Eric Schmitt has not always made the right call as Missouri's attorney general, but he understands the negative effects of unleashing police to serve as revenue-raisers for their municipalities. He sponsored legislation as a state senator to curb the practice, but the law he pushed through was overturned in the courts.
Then the state Supreme Court changed its mind. As the Post-Dispatch's Jeremy Kohler reported Monday, Schmitt is now moving to restore the same rules he put in place as a legislator, using his office smartly to continue a good fight. He's likely to get some pushback from the same St. Louis County municipalities that have challenged the reforms from the start. This time, with the high court's backing, he should stand firm.
Among the most important issues highlighted following the unrest in Ferguson in 2014 was the way Missouri municipalities were abusing their own citizens through use of traffic fines and the court fees that would often start snowballing in their wake.
Some St. Louis County municipalities had become hugely reliant on traffic-violation fines and related revenue, giving police strong incentive to be overly aggressive in pulling over drivers, while giving municipal traffic courts equally strong incentive to pile on the fines. As always, the fines and fees hit the poor and minorities disproportionately hard. The anger that exploded in Ferguson had been simmering long before the police killing of Michael Brown, heated in large part by this abuse of citizens at the hands of their own police and courts.
In 2015, Schmitt, then a Republican state senator, sponsored Senate Bill 5, which sought to rein in those abuses with limits on how much of a municipality's revenue could come from traffic tickets and related fines.
The bill set that limit at 20% of a municipality's total revenue, except for municipalities in St. Louis County, where it was slashed to 12.5%. It also set special police accreditation standards and other requirements that St. Louis County municipalities had to meet. Schmitt — who'd earlier been a city council member in the small St. Louis County city of Glendale — understood that the abuse-of-fines problem was especially acute throughout the county.
The Missouri Supreme Court in 2017 threw out the special standard that had been set for St. Louis County, agreeing with some municipalities that the law violated the prohibition on legislation that targeted specific areas. But the court last year reversed itself, ruling that such legislation is constitutionally valid if there is a "rational basis" for it.
Municipalities in St. Louis County historically have had a special problem with fine abuse, requiring special legislation. While some of those communities hint they will again challenge the law, Schmitt should press ahead with its reinstatement. He was right before and he's right now.