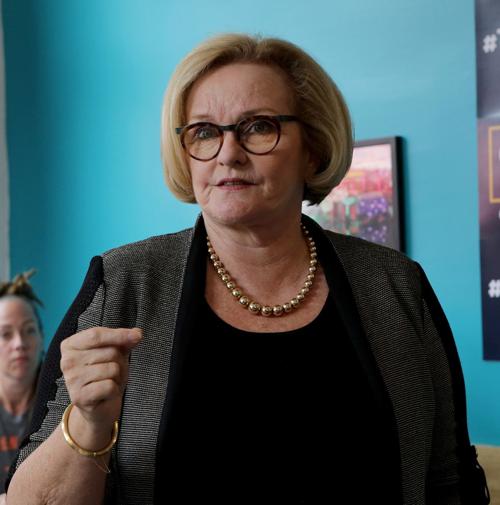 A president whom a majority of voters opposed, and a Republican Senate that has already stolen one Supreme Court seat for him, are now pushing their second Donald Trump nominee onto the bench. Brett Kavanaugh brings a history of mud-slinging partisanship, apparent hostility toward abortion rights and a belief that presidents are above the law. He'll be a fine foot soldier in the GOP's campaign to force upon America a court that is ideologically at odds with a majority of its citizens.
So, yes, the fury that liberals feel over this process is understandable. They should temper it, however, with the knowledge that the current situation was partly created by Democrats' own repeated failure to take the long view in political battles of the moment. Yet they do it again by directing their fury toward embattled Democratic Sen. Claire McCaskill, who is locked in a struggle to retain her Missouri seat.
A Democratic win in Missouri's U.S. Senate race Nov. 6 could help shift Washington's balance of power in their favor. But the left endangers it with its self-defeating demand that McCaskill vow in advance to cast a purely symbolic vote against Kavanaugh's confirmation. She should resist.
McCaskill is that most endangered of species, a red-state Democrat. Her party's uphill fight to retake the Senate is almost certainly doomed if she doesn't defeat her GOP challenger, Missouri Attorney General Josh Hawley.
McCaskill has survived this long by proving to Missouri voters that she genuinely is the centrist she claims to be. She has stood with her party on core issues like abortion, health care and gun control but has worked across the aisle on things like taxes, the environment and some administration appointments. That kind of flexibility — and refusal to be blindly loyal to the party — is necessary for red-state Democrats to survive politically. Would that Hawley showed even a fraction of that independence from his own party and president.
It's neither surprising nor wrong, then, that McCaskill hasn't lined up with blue-state Democrats who are loudly announcing their opposition to Kavanaugh ahead of the confirmation vote. Yet her studied silence has drawn the ire of liberal groups and legions of social-media commenters flooding her with enraged demands that she vow a "no" vote — right now!
What is the goal here? If McCaskill were the linchpin to stop Kavanaugh, that would be one thing, but she isn't. There's no indication of a break in Republican ranks, which means it's effectively over.
Why are liberals so anxious to box in McCaskill on a confirmation vote that won't make a difference but could easily cost her the Senate election?
Sometimes you look over the battlefield, accept that victory is beyond your grasp, and prepare to fight another day. When that next fight comes, would liberals prefer to be directing their outraged demands at Sen. Hawley?
Views from the editorial board, opinions from guest and national columnists plus the latest letters from our readers.