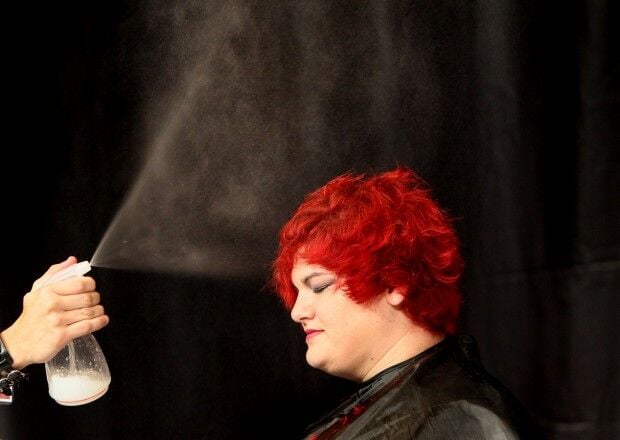 Lesson learned
OK, technically, the warning label on Gorilla Glue's spray adhesive product doesn't specifically tell people not to spray it on their hair. That's because most folks know that super-adhesives and hair simply don't belong together. Most folks, however, aren't Tessica Brown of Baton Rouge, Louisiana.
Normally, Brown uses a hairspray called Got2b for her uncooperative hair. Brown stated in an Instagram video that she had run out of Got2b and decided spray-on Gorilla Glue might do the trick instead. It glued her smoothed-down hair tightly to her head and wouldn't come off, no matter how many times Brown washed her hair. A visit to a hospital emergency room didn't help. She looks absolutely miserable in the video as she warns, "Bad, bad, bad idea."
Gorilla Glue was so moved by the video it issued a statement to make absolutely clear: "This is a unique situation because this product is not indicated for use in or on hair as it is considered permanent. … We are glad to see in her recent video that Miss Brown has received medical treatment from her local medical facility."
Unfortunately, it didn't end there. The video went viral, giving birth to the Gorilla Glue Challenge. Len Martin, also of Baton Rouge, recorded himself applying regular Gorilla Glue to a plastic cup, then lifting it to his lips to prove saliva would keep it from sticking. A photo now appears online of Martin in his local emergency room, with the cup firmly attached to his lips.
Don't do this, either
Last year, Illinois resident Kayla Stagner drank hand sanitizer contaminated with methanol and died in a Fenton hospital, which is sad. But it's downright pathetic that her family has now filed a federal lawsuit against 4e Brands Northamerica LLC, manufacturer of Blumen hand sanitizer, and Sam's Club, where the hand sanitizer was sold.
Stagner, who was an alcoholic, drank the hand sanitizer, which was recalled by the U.S. Food and Drug Administration last year after determining that it contained methanol, which can cause nausea, vomiting, blindness and death, particularly if it is ingested. Hand sanitizer is supposed to contain 70% ethyl alcohol. Either way, people should know better than to drink hand sanitizer, which contains other ingredients that can cause serious damage to internal organs.
The lawsuit alleges Stagner used the hand sanitizer in a manner that should have been reasonably anticipated by the manufacturer. Addiction is the real problem here, not the company, the retailer or even the FDA.
Pandemic poser
Everyone needs some time off now and then, but a St. Louis police officer is facing felony charges after allegedly falsely claiming he needed two weeks off to be in quarantine from the coronavirus. As the Post-Dispatch's Robert Patrick reported recently, officer Ronald E. Vaughan contacted the police department's workers compensation office to say he'd been ordered into quarantine. When the office told him he had to have a doctor's note, he forwarded one minutes later.
The problem, according to charging documents, is that the note appeared to have been crudely altered, with areas "blocked out in white, as if they had been pasted over an old note, and did not match the rest of the letter."
Vaughan's honesty has come under question before. In 2013, a video appeared to show him planting drugs on a suspect, though it wasn't proven. Vaughan was also involved, with another officer, in the fatal 2015 shooting of an 18-year-old suspect that the family's lawyers claimed was unjustified.
Pundit no longer can tweet it
The Gateway Pundit, named after our own Gateway City where founder Jim Hoft launched his far-right misinformation website, has been banned by Twitter for violating the platform's "civic integrity policy." That's Twitter's way of saying it will no longer let people use their platform to spread blatant lies.
Hoft's Twitter account helped spread the myth that the Nov. 3 presidential election was stolen from former President Donald Trump (who also is banned from Twitter for exactly the same reason).
The ban might be one of the least of Hoft's worries. He's also being sued by Dominion Voting Systems for lies he helped spread alleging without proof that the company helped rig the election in President Joe Biden's favor. Hoft's website, though, continues to spew daily misinformation along with blatantly faked photos and other dumb stuff.
It's called a plane ticket
Now that John Kerry is President Joe Biden's new climate czar, conservative media have exhumed a mini-scandal from two years ago, when Kerry took a private jet to Iceland to receive a climate-change leadership award. At the time, Kerry defended it as "the only choice for someone like me."
Yes, that's in the past, but going forward, perhaps Kerry — whose wife still owns a private Gulfstream jet — should embrace setting responsible examples as part of his new job. Kerry in 2019 received the Arctic Circle Award for chairing Paris Climate Accord negotiations while he was secretary of state under President Barack Obama. Kerry delivered a speech at a Reykjavik ceremony in which he called for "urgent action" against global warming.
But some criticized him at the time for having arrived at the event on a private jet. Kerry responded to the criticism in part by arguing: "I can't sail across the ocean. I have to fly to meet with people and get things done."
Hmmm. If only there were some service available that would allow multiple people to fly on the same plane, thus requiring less of a carbon footprint for each of them.