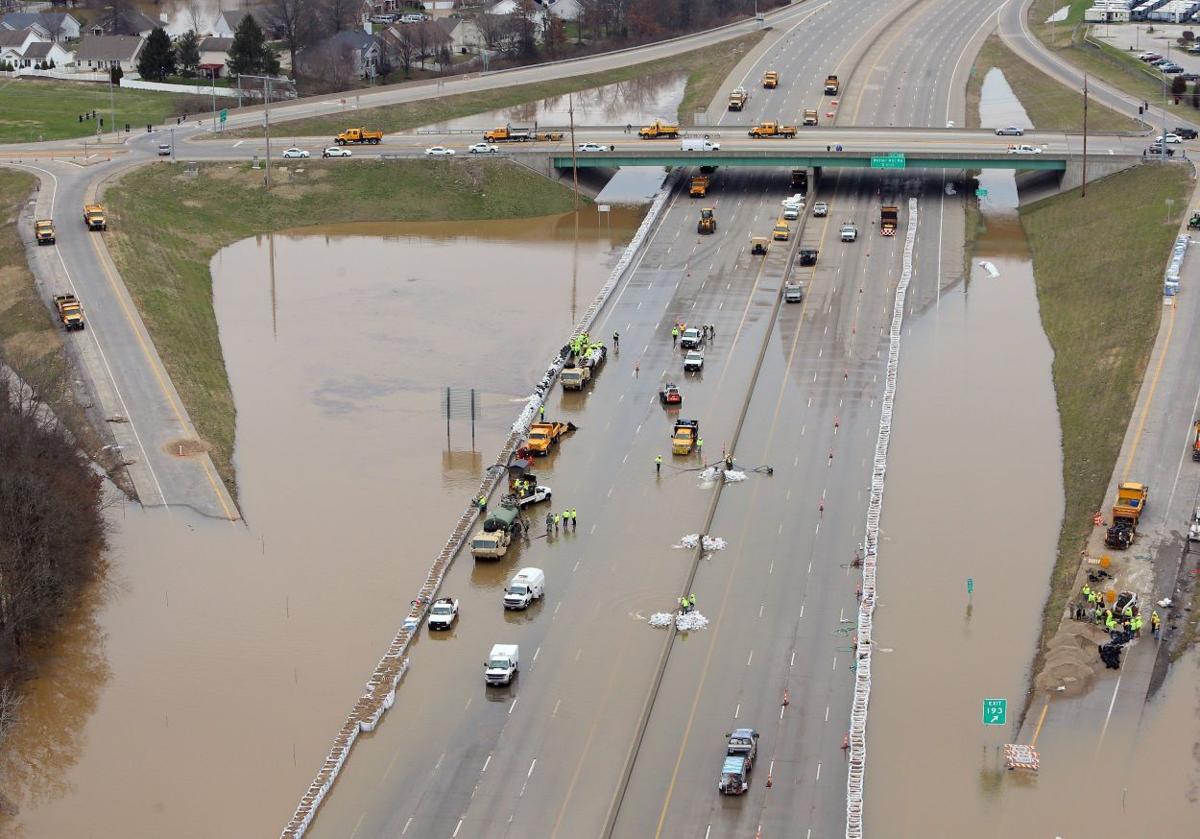 No. No. A thousand times, no.
Just as the state Legislature was convening for its 2021 session this week, Republican Rep. Mary Elizabeth Coleman of Arnold had what probably seemed like a great idea at the time: renaming a stretch of Interstate 55 to honor President Donald Trump. She issued a news release announcing her bill, which thanks Trump "for strengthening Missouri's economy, defending our values, and making America great again during his historic first term."
The news release came out just as rioters were storming the Capitol in Washington after having been encouraged to do so by the very man Coleman wanted to honor for "defending our values." It's not quite clear what values she's talking about, or exactly how Trump made America great again, but she absolutely nailed it when she noted Trump's "historic first term."
There's a good chance in coming days Trump will make history for having incited a riot that caused the halls of the Capitol to be breached by insurrectionists for the first time since 1814. Or for potentially being the first president to be ousted by invoking the 25th Amendment provision for mental incompetence. Then there's the chance Trump could go down in history as the first president to be impeached twice in one term. But are those really a good reason to name a highway after him?
Why that eerie silence on social media?
Suddenly this week, Americans' online postings seemed to load faster and post more smoothly, as if a great weight had suddenly been lifted from social media accounts. That would be because Twitter and Facebook froze President Trump's feeds after he proved incapable of posting truthful comments and, more to the point, appeared to be using the platforms to incite violent insurrection — something the two social media giants tend to frown upon.
A day after Trump's accounts were frozen, the president was forced to make announcements using the personal Twitter account of one of the few White House staffers who hadn't yet resigned over Trump's role instigating the Capitol Hill riot. Even then, Trump managed to lie by asserting that "the facts bear me out" regarding his claim to have won the Nov. 3 election. He lied again by claiming to have led "the greatest first term in presidential history."
With only 11 days left in Trump's administration, Facebook should follow Twitter's lead and make the ban permanent. America has no use for anything else Trump has to say.
Rosa Parks, Mother Teresa and Devin Nunes?
Two days before right-wing extremists chased Republican Reps. Devin Nunes and Jim Jordan into hiding on Capitol Hill, President Donald Trump awarded Nunes the Medal of Freedom with plans to do the same with Jordan in celebration of the very behavior the two Trump lapdogs engaged in to encourage Wednesday's riots. Nunes and Jordan were among House GOP hardliners who feigned apoplectic outrage over the gall of American voters not to reelect Trump to a second term. They also were his principal defenders when the House correctly impeached Trump for abusing his powers.
"Devin Nunes' courageous actions helped thwart a plot to take down a sitting United States president," Trump declared on Monday.
Without any further action by the two representatives, however, Trump singlehandedly launched his own plot to bring down his presidency with a speech to protesters gathered on the Ellipse in Washington Wednesday. He urged them to march on Capitol Hill, and lo and behold, they did. Hundreds of right-wing rioters entered the Capitol, forcing freedom-defenders Nunes and Jordan to flee along with the rest of Congress while freedom-defending terrorists ransacked the House and Senate.
Previous Medal of Freedom recipients include astronaut Neil Armstrong, Duke Ellington, Jesse Owens, Jackie Robinson, Frank Sinatra, Mother Teresa, Rosa Parks, Muhammad Ali, Aretha Franklin, Bob Dylan, Babe Ruth and Elvis Presley.
Beware pharmacists with conspiracy theories
There's something deeply troubling about a pharmacist who would deliberately sabotage 57 precious vials of coronavirus vaccine because of his personal anti-vaccine beliefs. But in the Trump era, perhaps no one should be surprised. It turns out Wisconsin pharmacist Steven Brandenburg is a conspiracy theorist who, despite his education in health science, chose to act on his unfounded beliefs about vaccine-prompted DNA mutations rather than allow science to dominate his actions.
Brandenburg told police in Grafton, just north of Milwaukee, that he deliberately spoiled enough vials of Moderna vaccine to vaccinate 500 people, according to documents released Monday. He was convinced the world was "crashing down" and decided that the vaccine would cause people's DNA to mutate. He also reportedly was upset over a pending divorce and was said to have taken a gun to work.
A detective wrote in a probable cause statement that Brandenburg, 46, is an admitted conspiracy theorist. Which coincidentally qualifies him either for a Republican seat in Congress or for a Medal of Freedom.
Grazing rights and wrongs
One of the precursors to Wednesday's Capitol Hill rampage was the 2016 armed takeover of the Malheur National Wildlife Refuge in Oregon by a group of angry right-wing ranchers. They were inspired by ranchers Dwight and Steven Hammond, who became the cause cèlébre of the national right-wing insurrectionist movement after being convicted of setting fire to public lands in 2012 to protest what they termed onerous grazing restrictions.
President Donald Trump pardoned them in 2018. Now the administration has proposed granting them grazing rights on the refuge they tried to seize and destroy in defiance of the requirement that they … (drumroll) … obtain grazing rights.