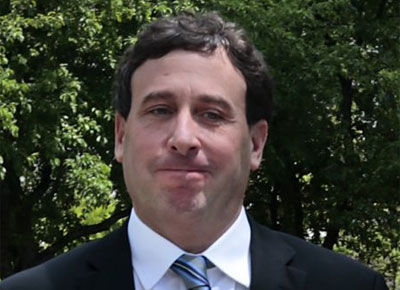 In weighing how much prison time former St. Louis County Executive Steve Stenger deserves, U.S. District Judge Catherine Perry definitely should consider all the good things he has done. For example, he occasionally showed up for work — even if dressed in shorts and a T-shirt just to play video games. Sometimes he even attended mandatory County Council meetings. Occasionally, he managed not to demean staffers or plot to destroy anyone who dared to challenge him.
Granted, there are a few caveats that perhaps suggest a more robust sentence would be appropriate. Robust as in: Throw the book at him.
In addition to the millions of dollars Stenger's corrupt practices will cost taxpayers, a 12-page sentencing memo filed Friday by federal prosecutors should squelch any consideration of leniency.
Stenger's attorney says a reduced prison sentence is appropriate. After all, Stenger experienced "regret," attorney Adam Fein argued. The discomfort this experience caused must have been substantial. Stenger pleaded guilty only eight days after he was indicted, Fein noted.
In other words, when presented with transcripts of wiretaps and incontrovertible evidence outlining Stenger's guilt in schemes to defraud voters and divert public money to his campaign coffers through pay-to-play deals, yes, Stenger acknowledged the reality that the feds had him cold. Stenger had no choice but to admit guilt.
Consider the personal costs. He has surrendered his law licence and can no longer work as a certified public accountant, Fein argued. Stenger is "the subject of public opprobrium, and is an object of regular public scorn." His pregnant wife and their two children stand to suffer serious hardship the longer Stenger is in prison.
If only Stenger had considered all this before he broke the law. One of the most telling examples of his cynicism and utter disregard for voters was exposed in a recorded private conversation he had on Nov. 7, 2018 — the day after his reelection: "How 'bout that mother(expletive)? I don't show up to the Council meetings. I don't do (expletive) (expletive). I've been sitting at my house for the past two months (expletive) raising money and then won by 20%! The world's a (expletive)-up place."
Speaking of expletives for messed-up places, the county jail was so dysfunctional that four inmates died in custody this year. For Stenger, the jail was just a place where jobs could be dispensed to cronies. "It's good (messed) up. We like it (messed) up. I care about my politics," prosecutors quoted him as saying on Jan. 4.
These are the words not of a nurturing father or elected official devoted to public service. These are the words of a man celebrating how easily he was able to deceive voters and manipulate the system. These are the words of someone who fully recognized the abuses he was committing.
These are the words of a snake whose expressions of "regret" aren't for the crimes he committed but for the fact that he was caught.
Editor's note: This item was updated to correct the gender of Stenger's two children.