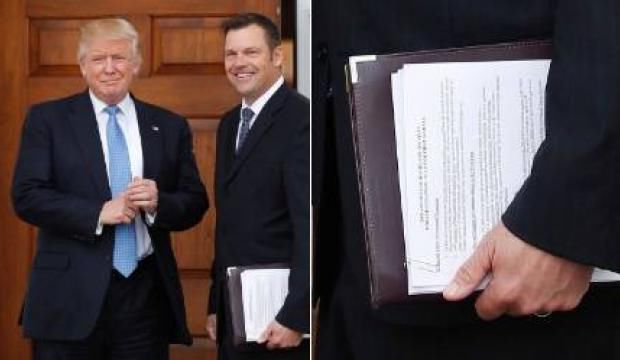 Kansas Secretary of State Kris Kobach, the vice chairman and driving force behind President Donald Trump's bogus Commission on Election Integrity, has gone silent. This could be because court documents unsealed last week, after he misled a federal judge, show his real agenda is amending the national Voting Rights Act to suppress votes.
The commission hasn't met since Sept. 12, when it was embarrassed by Kobach's claim that 5,500 people may have committed fraud by registering to vote in New Hampshire without having a state driver's license. It turns out that voting without a state ID is not illegal as long as someone — like a college student — is legally "domiciled" in the state.
Reputable studies have shown fraud by voter impersonation is all but non-existent. But Kobach appears deeply worried about brown people. He's the one who inspired the president-elect's startling claim last November that Trump would have "won the popular vote if you deduct the millions of people who voted illegally."
With the voter integrity commission, Kobach finally had a platform to pursue his real agenda: Bringing Kansas' "show us your papers" voting requirement to the rest of the country.
The Kansas law required proof of citizenship to register to vote. The American Civil Liberties Union challenged it, saying the law violated the federal Voting Rights Act. In October 2016, a federal appeals court agreed, ruling that Kobach's law amounted to "a mass denial of a fundamental constitutional right."
Then Trump was elected. In a widely published photograph of Trump and Kobach taken Nov. 20, Kobach was carrying a document titled "First 365 days." It included the headline "Stop Aliens from Voting."
The ACLU sued to find out if amending the Voting Rights Act was part of the plan. Kobach said the document wasn't relevant. A judge fined him for "patently misleading" the court and ordered him to submit to a sworn deposition. The ACLU deposition was unsealed last week. Sure enough: Kobach wants "show me your papers" to be the law of the land.
Meanwhile, he still wants state election officials to run registration data through a program called "Crosscheck" that throws out registrations for people with the same names and birthdates. Researchers have found that Crosscheck is wrong 99 percent of the time. Indiana, Vice President Mike Pence's home state, is being sued for throwing out the registrations anyway.
A lot of people have the same name, and the possibility of some sharing the same birthdate is higher than most people think. Statistically, out of every 23 people born the same year, it's 50-50 that two of them will share the same month and day of birth.
For people like Kobach and Trump, math and fact are irrelevant. It's ideology that's important. Americans should hope the Kobach commission stays silent.
Views from the editorial board, opinions from guest and national columnists plus the latest letters from our readers.