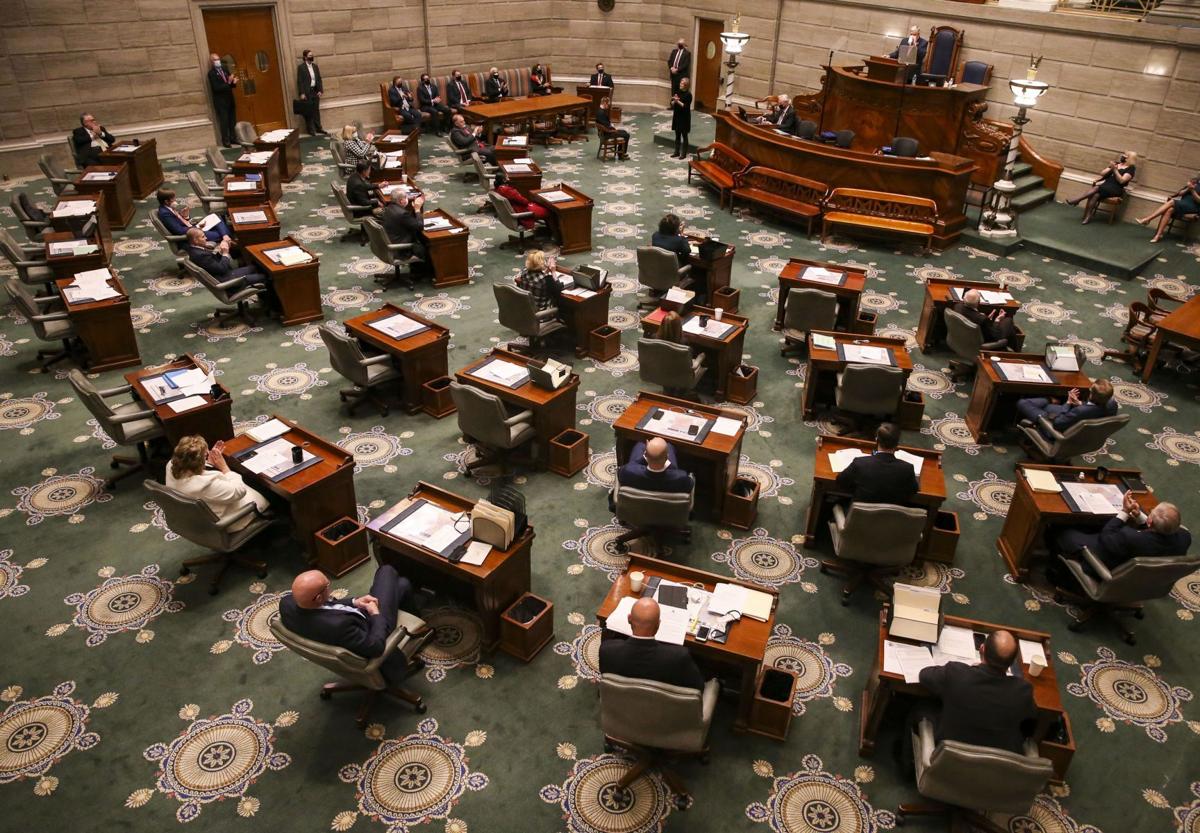 Gov. Mike Parson touted his handling of the pandemic during his State of the State speech Wednesday with high-five enthusiasm, as if he and Missouri had scored some kind of major victory. The irony is that the speech had to be delivered in the Senate chamber, instead of the traditional House venue, because of a coronavirus outbreak among lawmakers.
If a truly responsible leader were in charge, the speech wouldn't have been delivered in person at all. But delivering it online would have undermined Parson's entire false theme of being Missouri's take-charge guy on the pandemic response. He has punted and dodged at every turn.
Parson began his speech with a list of challenges that Missouri has addressed since his first State of the State speech in 2019: severe droughts, escalation of violent crime, historic flooding, tornadoes. He then transitioned reluctantly to that dang pandemic, asserting that his administration "was fully engaged and immediately on the ground" when the state's first case, in St. Louis, surfaced last March.
"We were one of the first states in the nation to submit our COVID-19 vaccine plan … and have now administered nearly 400,000 doses to Missourians," Parson said. He conveniently failed to mention that, under his plan, Missouri now ranks dead last among the 50 states and District of Columbia for the percentage of residents who have received their first vaccine dose.
"We were a leading state in developing our dashboard of Missouri-specific data," he added. The state has not included the results of antigen tests, also known as rapid tests, in its tally of coronavirus cases, yielding an undercount of tens of thousands of positive results. Dashboard numbers were constantly revised in ways that helped hide sharp increases in positive cases when the timing was politically inconvenient for Parson. What good is it to praise a dashboard that is not correct in its reporting?
Parson insisted his administration has "worked nonstop to take a balanced approach, fight the virus, and keep Missourians as safe as possible."
Balderdash. He fought tooth-and-nail to avoid issuing the most basic of safety measures: a statewide mask mandate.
It seems like, almost daily, another Missouri legislator tests positive for the coronavirus. Some House members Wednesday refused to wear masks during the speech.
One of the tenets of Republicanism is of personal responsibility. Our Republican governor does not seem to want to take any personal responsibility for Missouri's abysmal pandemic response. Parson has yet to acknowledge his mistakes — and there have been plenty.
Yes, Parson should be proud of the actions he has taken in fighting the pandemic; but he should also be big enough to admit where he has fallen short. That's what honesty and integrity are all about.
When it comes to its coronavirus response, the state of our state has been anything but strong.