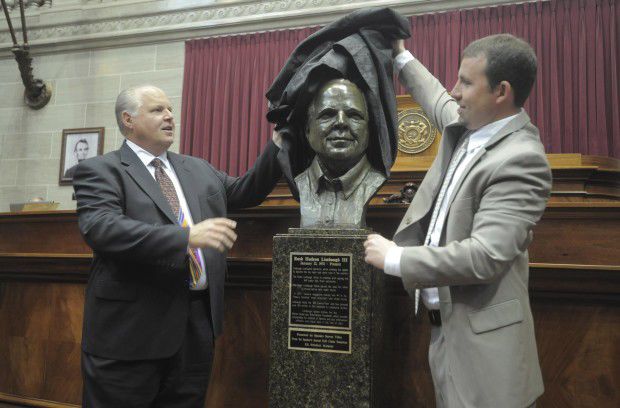 For the past four years, this editorial page often held up former House Speaker Steve Tilley, R-Perryville, as the poster child for ethics reform in the Missouri Legislature. A lot of lawmakers cash in on public service, but no one as brazenly as Tilley.
On Sunday, the Post-Dispatch's Kevin McDermott reported in depth on the infamous Tilley Shuffle. How, when he resigned from the Legislature in August 2012, he took $1.1 million left over in his campaign account and used it as seed money for political lobbying and consulting firms that he and family members run. How he spent about half of his leftover $1.1 million making campaign donations to lawmakers whom those firms lobby. How at least $420,000 came back to the Tilley family as personal income.
Through legal, but ethically dubious, alchemy, Tilley took more than a million dollars given to him when he held life and death power over legislation as speaker of the House and supposedly was considering a run for lieutenant governor, and used it to build a personal empire. In the process, nearly half a million dollars were converted into income that he and his family could spend as they chose.
It calls to mind the old Steve Martin joke: "You say, 'Steve, how can I be a millionaire?' First, get a million dollars."
Steve Tilley won election to the Missouri House in 2004, fresh from his family's optometry practice in Perryville. He was 33 at the time, an affable and energetic ally of then-Speaker Rod Jetton, a Republican from Marble Hill who pioneered the legislator-as-consultant scheme.
Today Tilley is one of the busiest lobbyists in Jefferson City, with a client list that includes big businesses (Anheuser-Busch, Express Scripts, Tesla Motors) and big labor (the Missouri AFL-CIO). His loyalty follows the money. Last year he represented the St. Louis Metropolitan Taxicab Commission. This year he switched to Uber, the ride-sharing company that's been the taxi commission's enemy.
His operations grew increasingly complex as he moved money from his original campaign into two political action committees. He was able to drop the charade that he was planning a future run for office. His sister, Kristal Brickhaus, got into the act with a fundraising company, as did his father, Everett Tilley, and brother, Jason Tilley, who are officers in one of his PACs.
This year, the Legislature passed bills outlawing these sorts of practices. Legislators can no longer be consultants, and they must wait six months after leaving office to become lobbyists. And they can't take their campaign cash with them. As long as unlimited amounts of campaign donations are allowed to flow in, there's still work to do.