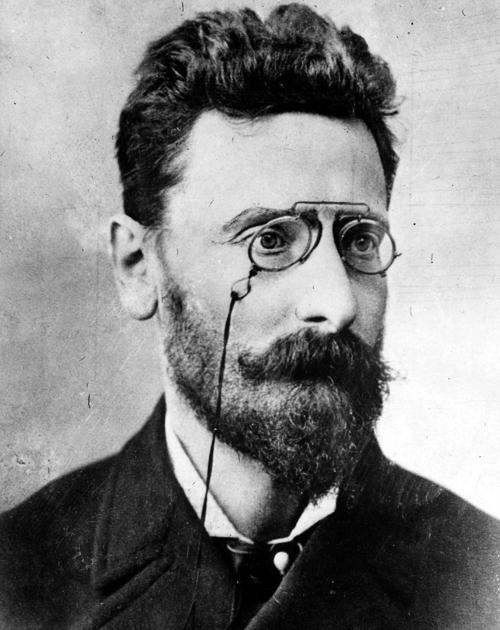 Following is a reprint of an editorial originally published on Aug. 28, 2016.
Few jobs at any newspaper carry the propensity to divide and inflame as does the job of editorial writer. So passionate are the feelings our pages provoke that arguments can boil over, way beyond the point of reasonableness. Back on Oct. 5, 1882, things got so heated our chief editorial writer shot to death a political opponent of this newspaper.
Times have changed. Our writers aren't allowed to shoot anyone. We need living subscribers. We adhere, however, to the same fundamental principles that guided the thinking of this newspaper's founder and original publisher, Joseph Pulitzer, more than a century ago. He was amazingly prescient in his editorial opinions and served as the moral compass for our entire profession, which helps explain why journalism's most prestigious prize is named after him.
Pulitzer championed racial justice and women's rights decades before those ideas were popularly held. Under his guidance, the paper took on the clergy when preachers began pressuring for prohibition. He dared to go head to head with President Theodore Roosevelt in court over Panama Canal corruption. Pulitzer won.
He was unquestionably passionate in his views, particularly as they applied to rich people who used their money to buy influence in Washington. He set forth a credo upon his retirement in 1907 that, years later, became established as The Platform of the Post-Dispatch.
Pulitzer wrote that this newspaper "will always fight for progress and reform, never tolerate injustice or corruption, always fight demagogues of all parties, never belong to any party, always oppose privileged classes and public plunderers, never lack sympathy with the poor, always remain devoted to the public welfare, never be satisfied with merely printing news, always be drastically independent, never be afraid to attack wrong, whether by predatory plutocracy or predatory poverty."
That's a mighty agenda. His words are no less resonant today than they were back then. But they do require some modern context to reflect today's more complicated picture.
Progress and reformThe first few phrases in The Platform are inarguable. We still stand for progress and reform. Progress in the early 1900s often meant producing more coal to fuel St. Louis' rapidly expanding industrial and manufacturing base, with little regard to the air we were polluting or the atmosphere we were warming. Progress today means expansion and improvement but not when it puts our planet or people at risk. Anything that continues to pose such risks needs to be adjusted, which is where reform comes in.
We still insist on fighting injustice and corruption. Demagogues of all parties still have to watch out. And, absolutely, this newspaper remains steadfast in avoiding attachment to any political party.
But here's the problem: The Platform is directed toward causes and ideals that, since the early 1900s, have been embraced by the Democratic Party while often held at arm's length by the Republicans. The more we adhere to The Platform as a newspaper, the more we get labeled as liberal.
We cannot afford this appearance if we want to honor The Platform's call to maintain our independence. At the same time, we cannot abandon our rock of truth.
It wasn't always this way. In the late 1800s, the Republicans were the ones fighting for racial justice while Democrats, especially in the South, stood squarely for policies of racial segregation and oppression. That would seem to have aligned the newspaper more toward Republican ideals, especially as Theodore Roosevelt assumed the presidency following William McKinley's assassination. But Pulitzer absolutely detested Roosevelt, which helped drive the newspaper's opinion pages away from the GOP and add to the inappropriate appearance of partisanship.
For many readers, we never recovered the necessary balance. As this newspaper adheres to The Platform's values in our editorials, we often find ourselves aligning with political candidates who most consistently espouse those values, which makes us appear partisan when that's not at all the case.
Fiercely nonpartisanRegardless of political party, the politician who can embrace The Platform and put it into action is a politician who will earn our support. Which means we, as a newspaper, need to look at the totality of public officials' records and ensure that The Platform serves as a set of judging criteria, kind of like a report card, for how they're performing. We await the day when both major parties articulate a set of standards like The Platform that can endure beyond a single election cycle. Ours has endured for more than a century.
"Drastically independent" should never be conflated to mean blindly nonpartisan. Wherever there is controversy, it's the job of the editorial page to help readers sift fact from fiction, sound reasoning from hype and workable solutions from pie-in-the-sky platitudes. A good idea is a good idea regardless of who proposes it and which party that person represents.
Drastically independent also should apply to our scrutiny of predatory plutocracy and predatory poverty. We must call out anyone and everyone who abuses the system. No one should get a free pass, including ourselves. We must resist dogma and always be self-critical.
Pulitzer wrote that we will always "oppose privileged classes and public plunderers, never lack sympathy with the poor, always remain devoted to the public welfare."
Back in his day, the privileged classes consisted of a very small number of mega-rich industrialists like J.P. Morgan, E.H. Harriman and John D. Rockefeller. There was good reason to believe they qualified as public plunderers, worthy of demonization.
But not every privileged person qualifies as a plunderer. Bill and Melinda Gates have donated more money than Rockefeller made in his lifetime. Locally, Jack Taylor, founder of Enterprise rental cars, was a noted philanthropist who donated more than $860 million to charitable causes. Mere membership in the privileged class does not automatically signify evil.
The rich-poor divideThe world always has confronted a rich-poor divide and probably always will. Pulitzer himself ranked among the rich. If the Post-Dispatch had held to his Platform philosophy, editors and reporters should have demonized him along with the rest. Our mindset must change.
Nor does poverty automatically make a person good and righteous. There are many poor people who plunder the system. Others claim to be fighting for the common person, only to profit personally or politically from their cause.
Just as the test of a rich person's character is his or her ability to resist greed and remain compassionate to those less fortunate, a poor person's character is tested whenever the easy route of crime and abuse beckons.
We, as a newspaper, absolutely must be sympathetic to the poor. But that doesn't mean a poor person is never to be subjected to scrutiny or criticism. No one gets a free pass.
All individuals should work hard and apply the principle of "sweat equity" to their endeavors. We applaud able-bodied people who make every effort to work for their pay. And when someone makes that effort but falls short because the minimum wage is too low to survive on, this newspaper must continue to come to that person's defense.
Finally, let's draw upon some words Pulitzer wrote but didn't include in The Platform. In May 1904, writing in The North American Review in support of his proposal for the founding of a Columbia University school of journalism, Pulitzer offered a warning about the indelible link between democracy and a free press.
"Our Republic and its press will rise or fall together," he wrote. "An able, disinterested, public-spirited press, with trained intelligence to know the right and courage to do it, can preserve that public virtue without which popular government is a sham and a mockery. A cynical, mercenary, demagogic press will produce in time a people as base as itself. The power to mould the future of the Republic will be in the hands of the journalists of future generations."
We are the future generation Pulitzer envisioned. We are witnessing enormous challenges to the newspaper business model that Pulitzer built. His medium never had to compete against video games, YouTube kittens, porn and blogging pseudo-journalism for the attention of the news-consuming public. Our democracy suffers because of it.
We make no excuses for the challenges this modern business environment poses. We also will make no compromises on the basic tenets laid out by Joseph Pulitzer more than a century ago. It's never been easy, and it's often frightening to be confronted with attacks and legal threats from presidents, plutocrats and public plunderers. We'll never rest. And we'll make sure they don't, either.