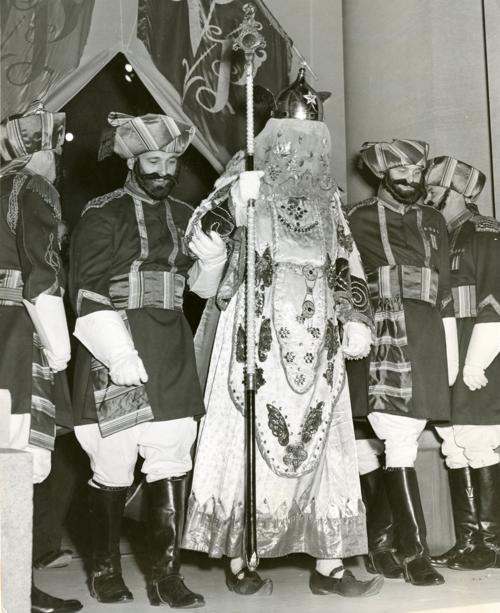 Every town has its strange, outdated traditions. Thanks to social media, many people recently learned about one of St. Louis'. And one St. Louisan in particular, perhaps unfairly, bore much of the backlash. As the world and many younger St. Louisans learn about the 143-year history of the Veiled Prophet, the time has come to ask whether such an organization, whose history is so defined by the city's racist and classist past, should even exist in modern St. Louis.
A clipping from a Christmas Eve 1999 edition of this newspaper announcing a 19-year-old Elizabeth Kemper as that year's Veiled Prophet "Queen of Love and Beauty" resurfaced last week and spread like fire on social media. Kemper, who now goes by Ellie, went on to graduate from Princeton and become a successful actor, most famously known for her comedic roles on television's "The Office" and "Unbreakable Kimmy Schmidt." Her unbreakable status was put to the test as the now-41-year-old actor became the face of the past racism and elitism of the secretive organization behind the annual ball and downtown event, Fair St. Louis, formerly known as the VP Fair.
The criticism of Kemper is both unfair and misplaced. As a 19-year-old college freshman, Kemper says, she was unaware that the Order of the Veiled Prophet was co-founded by a former Confederate soldier and didn't allow Black members until 1979, one year before Kemper was born. And if Kemper bears any responsibility for being complicit in the organization's past sins, she is not alone. Hundreds of thousands of St. Louisans, Black and white, have participated in Veiled Prophet functions over the decades, most notably the fair, with very little knowledge about the organization's history.
The changes made to the organization in the 1970s came after years of protests and pressure by local civil rights organizations of the day. Most notably, Percy Green and fellow activists from his Action organization covertly infiltrated the ball in 1972 and unmasked that year's Veiled Prophet, Tom K. Smith, a senior executive with Monsanto. Despite the reveal, the Post-Dispatch at the time decided not to report his identity.
The organization no longer discriminates based on race. Though one could argue it still does based on class. And that perhaps is its sin of today that fairly warrants asking whether it's time to close the book on this strange part of St. Louis' history and say goodbye to the Veiled Prophet. Other organizations can step forward to host St. Louis' annual downtown fair. If elites insist, they can hold their ball at private events. But the region's civic and business leaders of today should not be hiding their identities behind masks and expect the unquestioning respect or trust of the people of this diverse city.