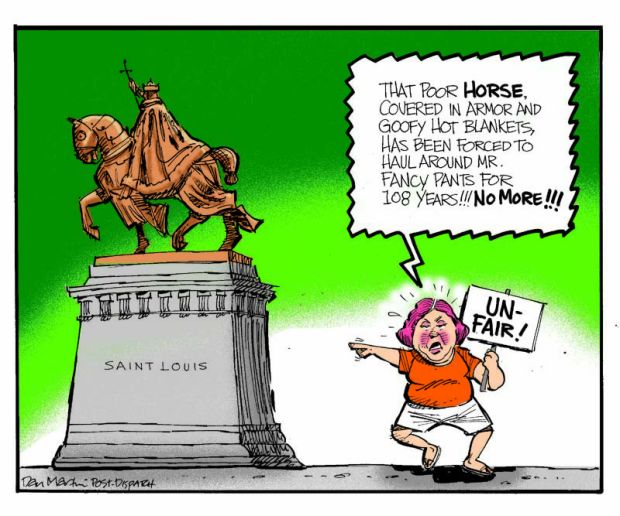 One can't help wondering if things would have gone differently for Moose the carriage horse if he'd had an app and a fuzzy pink mustache attached to his upper lip.
Moose, a sizable horse as befits his name, was in front of the City Museum, having just finished hauling a carriage and riders around downtown St. Louis on Saturday night, when city health director Pam Walker spotted him breathing heavily.
Ms. Walker, out walking her dog, diagnosed Moose with heatstroke. She is not a veterinarian nor a physician. She is a self-described "animal advocate" whose degree is in health administration. She stopped riders from boarding his carriage and ordered him back to the barn.
The next day Ms. Walker had a health department vet examine Moose, who is owned by Brookdale Farms, and said the diagnosis was chronic obstructive pulmonary disease. She vowed to put horse-drawn carriage rides out of business, saying they didn't need to be part of the "downtown experience."
By Tuesday, she had walked that back and more reasonably begun establishing rules and regulations to protect carriage horses in St. Louis.
Ensuring that animals aren't being abused for entertainment purposes, that their health isn't endangered and that they are being kept in safe conditions may be within the health department's job description.
Trying to shut down two local businesses and a tourist attraction because a horse is seen breathing heavily one night is not. Buzzkill.
Ms. Walker did the right thing by setting standards for ventilation, cleanliness and care for the horse-carriage stables, and ordering that horses be sidelined when the heat index reaches 100. Brookdale Farms and St. Louis Carriage Co. operate the carriage ride business in St. Louis.
Ms. Walker also demanded the companies not work a horse more than eight hours a day, five days a week, and that each horse be given a five-week vacation annually. She ordered that vet records be available for inspection and that stable owners allow monthly scheduled inspections.
Jerry Kirk, owner of Brookdale Farms, told the Post-Dispatch's Nicholas J.C. Pistor and Valerie Schremp Hahn that he had no problem with the orders and that they were "less than what we already are doing."
His vet examined Moose and said in a report that the horse showed "little to no evidence of COPD" and was "in great physical condition with a Body Condition Score of 5/9, which is perfect."
Moose, who must be feeling like a pampered Clydesdale by now, has fared better than Lyft. That transportation system, which outfitted its cars' grilles with fuzzy pink mustaches for easy identification, was shut down by a St. Louis circuit judge in April.
Lyft allows cellphone users to sidestep taxis by ordering up rides on a mobile app. The city's taxicab commission didn't like the interlopers, and were justified in their complaint that the company and drivers were unregulated.
Lyft remains closed. Its owners should have tried horses.