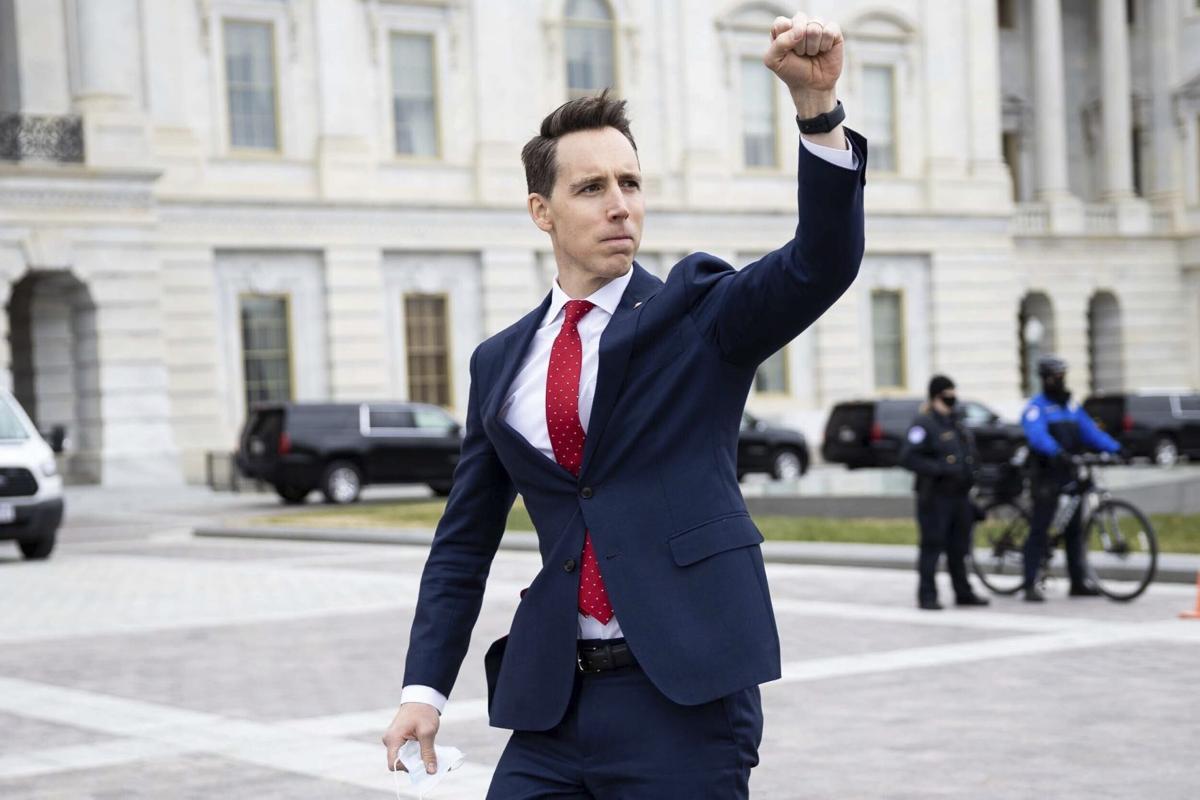 The violent armed anarchy on display at the nation's capitol Wednesday was brought to you by none other than Missouri Sen. Josh Hawley in enthusiastic support of President Donald Trump's incitement to insurrection. Trump and Hawley owe the nation a full accounting of their role in this shocking challenge to American democracy. What millions of Americans watched on television midday Wednesday was not even close to a patriotic defense of freedom or liberty. It was armed, violent rebellion, and Hawley reportedly stood outside the Capitol as it started Wednesday, cheering them on.
The rioters — whom Trump had openly encouraged with a promise to come join them — forced both houses of Congress to interrupt certification proceedings acknowledging the Electoral College victory of President-elect Joe Biden. That was supposed to be a solemn occasion acknowledging the triumph of American democracy. Hawley initiated and led the effort to interrupt it, and the protesters followed his lead. Trump did nothing to urge the protesters to stand down.
It's too late for impeachment, but a full congressional censure is in order, if not removal of Trump immediately under the 25th Amendment. He unquestionably encouraged and enabled what turned into the ransacking of the Capitol.
The protesters came within a few feet of the two most powerful people in the nation behind Trump — Vice President Mike Pence and House Speaker Nancy Pelosi. They were forced into lockdown as Capitol police drew their firearms inside the House chamber to fend off a violent invasion that included gunfire and bloodshed. One protester took the very seat where Pence had sat only moments earlier.
Yet Trump was painfully slow to deploy the National Guard — in sharp contrast to Trump's whimsical deployment of the Guard last summer amid a peaceful Black Lives Matter protest so he could assert a law-and-order mantle and stage a photo-op outside a church near the White House.
Trump helped whip up protesters' hysteria by denouncing anyone and everyone, including Senate Majority Leader Mitch McConnell, who dared stand up to Trump and refused to block Biden's ascension to the presidency. Even Pence recognized Monday that the constitutional process of certifying Biden's victory had to be honored.
But Hawley, joined by Texas Sen. Ted Cruz, did everything he could to encourage insurrection. Hawley's website on the day the chaos broke out was headlined in bold letters, "JOIN ME AND PRESIDENT TRUMP, Stand Up for American Election Integrity NOW!"
This is the same Missouri senator who tweeted his overblown outrage at a small group of protesters who gathered Sunday night outside his Virginia house, claiming to have been terrorized by "antifa scumbags."