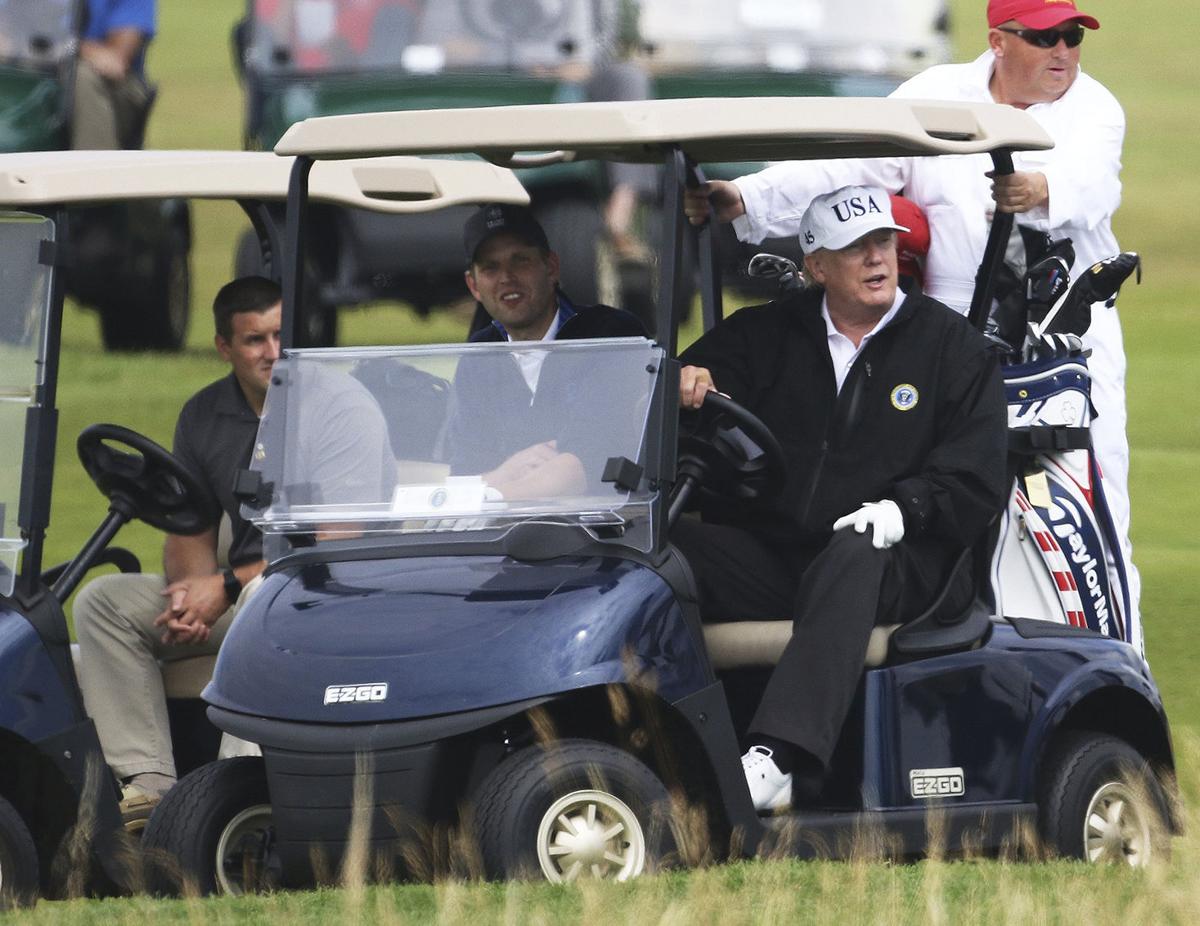 The president of the United States is openly, repeatedly monetizing his office in ways that should justify his impeachment and removal. The latest example is a report that Donald Trump ordered his ambassador to Britain to lobby his hosts to help move the lucrative British Open golf tournament to Trump's Scotland resort.
Impeachable as he is, Trump's removal probably will have to wait until, hopefully, Inauguration Day. But a House censure of the president for ongoing violations of the Constitution's Emoluments Clause would signal that America still recognizes this behavior as unacceptable. The House should consider it.
According to The New York Times, Trump's ambassador to the United Kingdom, Robert Wood Johnson IV, told several people in February 2018 that Trump directed him to press the British government to help Trump's Turnberry resort in Scotland land the British Open, which would mean a profit windfall for Trump. Johnson reportedly raised the request with Scotland's secretary of state — to no avail.
The emoluments clause bars federal officials from receiving financial benefit through foreign governments. Had the British government used its influence to steer this profitable business to Trump at his behest, it would constitute a brazen violation. Trump's use of a U.S. embassy as part of the scheme would be beyond corrupt.
That Trump wasn't able to close the deal is beside the point. It's part of his larger effort to hobble what he has, bizarrely, labeled "this phony emoluments clause" — which is in fact spelled out in two separate passages of the Constitution.
Trump's Washington hotel rakes in profit from foreign officials seeking influence. The U.S. government buys rooms for Secret Service officers at Trump properties (at inflated prices) when he travels to one. The U.S. military has paid him to lodge troops at Turnberry. Trump even tried to get the Group of Seven global economic summit to meet at his Doral golf club in Florida, which would have been a windfall to him from those half-dozen foreign governments.
This president really doesn't get it: He is not allowed to use the presidency as a marketing wing for his businesses. These are impeachable offenses. But given the approaching election and an unquestioning Republican Senate, impeachment now would be unrealistic.
Presidential censure is essentially a message of disapproval by the House or Senate. It doesn't remove a president or start a trial; it's just an official statement that condemns a president's actions. It's been fully carried out against a sitting president just once: Andrew Jackson, in 1834. Censure is a big, albeit symbolic, deal.
The emoluments clause is there to ensure presidential decisions are made with the good of America in mind, and nothing else. It's dangerous that Trump is being allowed to erode that principle with such abandon — dangerous enough to merit a historic condemnation that would make future presidents stop and think.
Views from the editorial board, opinions from guest and national columnists plus the latest letters from our readers.