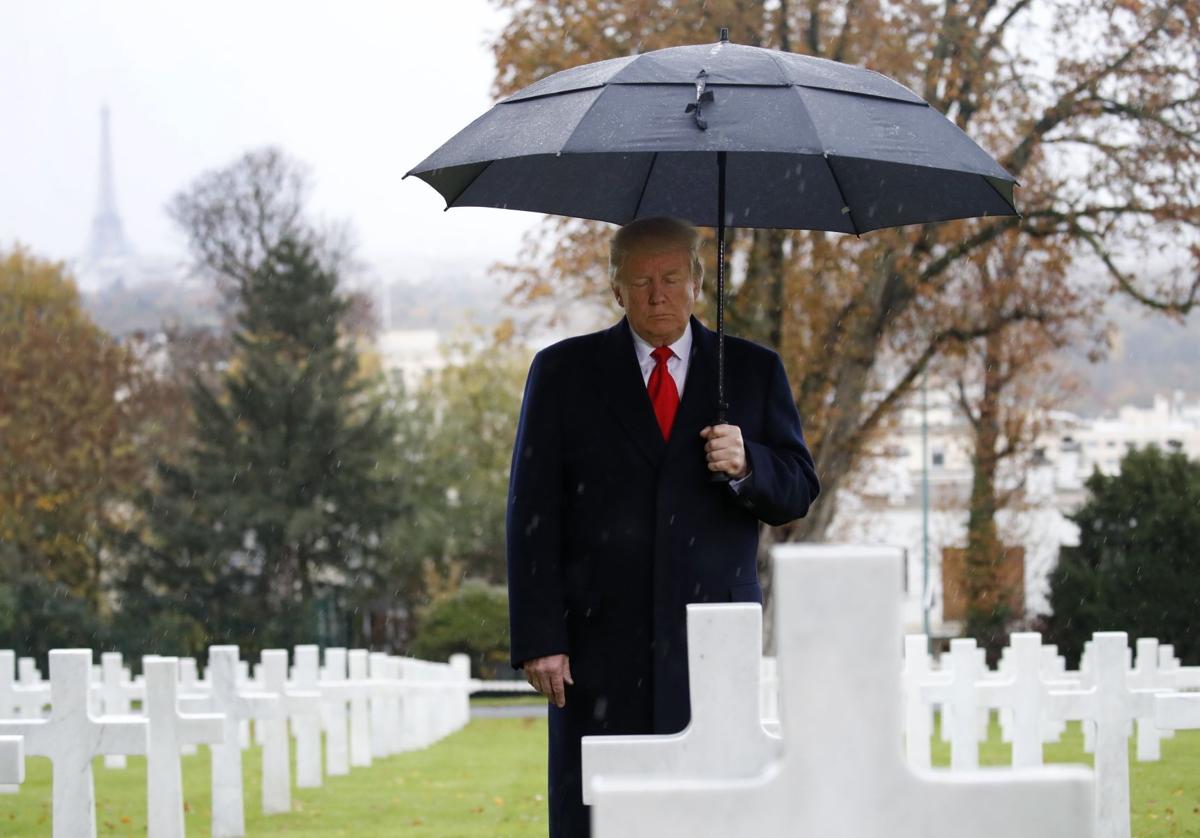 President Donald Trump, fully aware of Americans' short attention spans, is working hard to deflect and distract from embarrassing reports last week that he referred to American military service members as "losers" and "suckers" for getting killed at war. For Republicans who were apoplectic over President Barack Obama's failure once to wear an American flag lapel pin, the report by The Atlantic about Trump's disparagement of dead service members should be the cause of unbridled outrage. Sadly, Trump commands a battalion of cowards.
For those concerned that this is yet another example of liberal media fake news, consider that Fox News, along with The Associated Press, independently confirmed the gist of Trump's insults. When Republicans seeking election to Congress on Nov. 3 ask for voters' support, the first question they deserve to be asked is why they continue to cower in silence when even Fox News is reporting this as fact.
Multiple witnesses heard Trump, when pressed to attend a ceremony at the Aisne-Marne American Cemetery near Paris, say, "Why should I go to that cemetery? It's filled with losers." Multiple witnesses heard him refer to more than 1,800 Marines killed in the battle of Belleau Wood as "suckers." Trump reportedly asked aides, "Who were the good guys in this war?" while expressing doubts about the U.S. decision to intervene with Allied forces against Germany.
Trump's reported comments completely align with his track record. Millions of Americans saw the video clips of Trump disparaging Sen. John McCain for the 5½ years the severely wounded Navy pilot spent as a prisoner of war in North Vietnam, stating, "He's not a war hero. He was a war hero because he was captured. I like people who weren't captured." Trump dodged the draft by asserting he had a bone spur. He later joked in a radio interview that his own Vietnam sacrifice was dodging sexually transmitted diseases as a New York playboy.
Some things aren't joking matters. Yet GOP leaders don't dare call him to account, preferring to let him distract and deflect. This week's ploy is Trump's assertion that Pentagon generals are deliberately keeping America at war "so that all of those wonderful companies that make the bombs and make the planes … stay happy."
But it is Trump, not the generals, currently pushing a massive deal to arm the United Arab Emirates with F-35 warplanes. It was Trump, not the Pentagon generals, who issued a special emergency declaration last year to advance an $8.1 billion arms sale to Saudi Arabia and the United Arab Emirates.
He distracts and deflects, fully aware of how short the American attention span is — and fully aware that GOP leaders won't dare call him out for his hypocrisy and outrageous disrespect for those who sacrificed their lives — while he evaded service.
Views from the editorial board, opinions from guest and national columnists plus the latest letters from our readers.