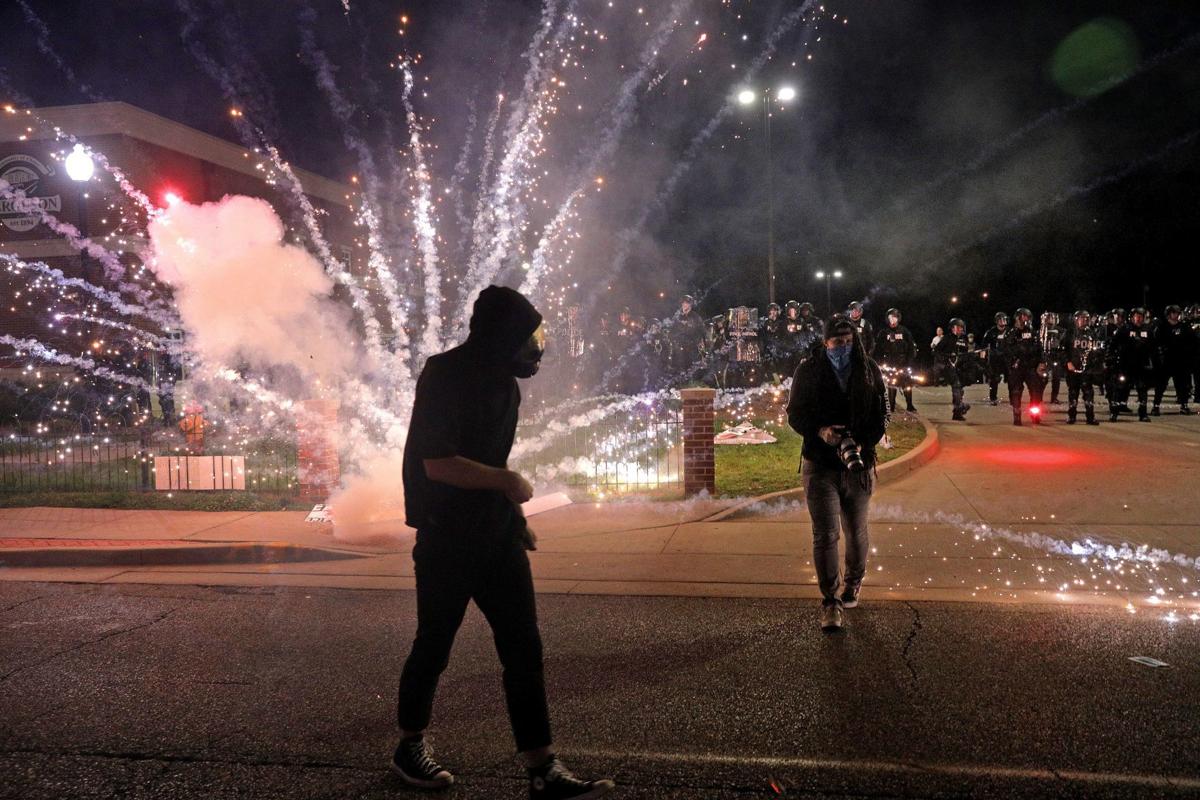 Those who loot, burn and destroy in St. Louis and around the nation do not deserve to call themselves "protesters." They are criminals, and their violence is undermining the legitimate protest movement that seeks to change the culture of police racism and brutality that led to the murder of George Floyd and so many others. Americans of conscience should avoid conflating these relatively few noxious promoters of chaos with the far larger ranks of peaceful protesters.
It's a distinction that President Donald Trump failed to make with the abominable tear-gassing of some of those peaceful protesters Monday in Washington. As always these days, Americans should strive to be better than their president.
Floyd's death in police custody, after an officer knelt on his neck for nearly nine minutes, was both horrific and numbingly familiar. Once again, an unarmed black man was killed by a white officer whose actions were indefensible to any rational person watching the video. Once again, apologists sought to explain it away as a case of "one bad cop," instead of the latest clear evidence that criminal justice in America requires immediate, radical reform.
And, once again, Americans practicing their constitutional right to peaceably protest this injustice have watched that noble action sullied by those who have broken windows, looted, set property on fire and — in St. Louis this week — shot at police and others. Four officers were shot and wounded downtown and, in a separate incident, one retired police captain was shot and killed as he apparently sought to protect a business from looters. Anyone twisted enough to view that death as some kind of justice for Floyd might want to consider the fact that the retired captain was black.
As the Rev. Martin Luther King Jr. understood, and as African American leaders like Rep. John Lewis, D-Ga., remind us now, violent protest is not only morally wrong but strategically counterproductive. It allows the racists and others who oppose reform to cast all protesters as illegitimate, while souring persuadable Americans to the cause. Anyone truly interested in fostering real justice should be drawing bright lines of distinction between those who loudly but peacefully seek systemic change, and those who just want to break, burn and steal.
Our president, as always, provides a living example of how not to do it: using tear gas to clear peaceful protesters just so he could pose for a photo holding a Bible in front of a Washington church and pretend to be a leader.
Had those protesters been engaged in violence, Trump would have scored the public-relations victory he cynically sought. Instead, because they were peaceful, the episode backfired, laying bare Trump's fundamental unfitness for office and demonstrating the truth of King's words: "Nonviolence is a powerful and just weapon, which cuts without wounding and ennobles the man who wields it."
Views from the editorial board, opinions from guest and national columnists plus the latest letters from our readers.