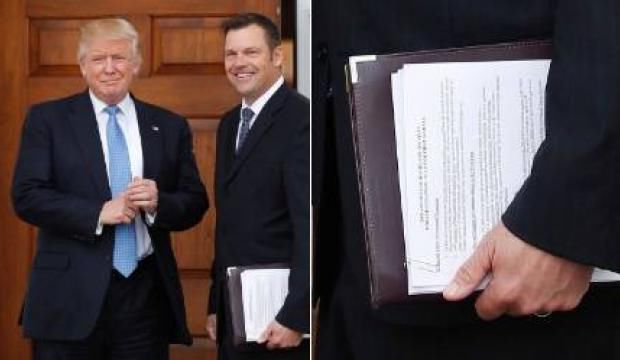 President Donald Trump absolutely did the right thing Wednesday by dissolving his six-month-old Commission on Election Integrity. It never should have existed. It was formed on a bogus premise. It antagonized state election officials from both parties. It held only two meetings, both of which saw rancor among its members. It found itself embroiled in no fewer than eight lawsuits.
Unfortunately, Trump did the wrong thing by keeping alive the bogus issue of widespread voter fraud. He asked the Department of Homeland Security "to review these issues and determine next courses of action" because the voting system, in his opinion, is still "rigged."
Homeland Security investigators operate largely in secret, and challenges to democracy can't be secret. Trump threw the issue to Homeland Security because he believes, without evidence, that voting by millions of undocumented immigrants cost him the popular vote in the 2016 election.
He got this idea 12 days after the 2016 presidential election when he met with Kansas Secretary of State Kris Kobach, an anti-immigration extremist. In Kansas, Kobach pushed through a law requiring voters to show proof of citizenship before being allowed to cast ballots. A federal judge threw out the law as "a mass denial of a fundamental constitutional right."
As he entered a post-election meeting with Trump, Kobach was photographed carrying papers that suggested amending the Voting Rights Act to "stop aliens from voting." Trump, stung by the fact that 2.9 million more people preferred Democrat Hillary Clinton over him, happily embraced Kobach's arguments. He named Kobach and Vice President Mike Pence to head the voter integrity commission, which went nowhere.
The Constitution grants states the right to conduct elections, so Kobach's first move was a request that election officials in all 50 states send him detailed voter information. He met with a wall of defiance from Democrats and Republicans alike. "They can go jump in the Gulf of Mexico, and Mississippi is a great state to launch from," said Delbert Hosemann, Mississippi's Republican secretary of state.
Kobach wanted to use a computer program called Crosscheck to compare state voter records with other public documents, such as birth certificates, and disqualify registrations that didn't match up. Computer experts later said that because names are so easily confused, the Crosscheck program is wrong as often as 99 percent of the time.
The commission had a problem akin to proving Bigfoot's existence: finding evidence of a problem that exists only in the imaginations of conspiracy theorists. No state election official, and no reputable researcher, has ever found major issues with voter identity fraud, much less a mass fraud conspiracy by 2.9 million voters.