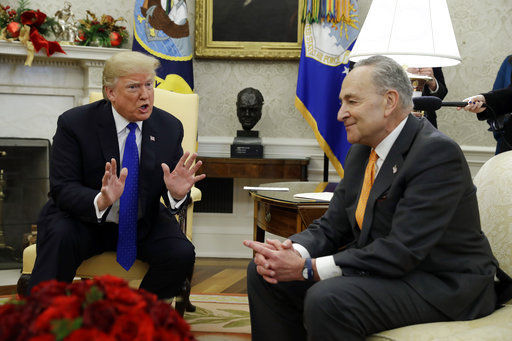 It's been said the first casualty of war is the truth, and the political war over the partial government shutdown is no different. As it drags into its third week — creating hardship for 800,000 federal workers, garbage pile-ups at national parks and shuttered museums — President Donald Trump and his GOP enablers have pursued a cynical misinformation campaign about the issue at the center of it: Trump's demand for a wall along the Mexican border.
No, illegal border crossings aren't a "growing crisis." No, terrorists aren't flooding — or even trickling — over the border. No, the American people don't want this wall. These are all demonstrable falsehoods that Trump has repeated, ad nauseam, to justify the havoc his shutdown is wreaking on America. What does it say about his position that a wall of lies is needed to prop it up?
Trump has shown he's willing to mislead the country on virtually any topic, but immigration has always had a central place in his tapestry of fiction. It's a topic on which he has relentlessly attempted to overwhelm facts and data with bigotry and fear. So let's get clear on some facts:
• There is no illegal immigration "emergency" at the border. In fact, illegal border-crossings have dropped dramatically in recent years. Border Patrol officers used to routinely arrest more than 1 million migrants annually, but for most of the past decade, that number has been below 500,000.
• Notwithstanding Trump's oft-repeated slander that undocumented immigrants pose an elevated criminal threat, statistics show they're significantly more law-abiding as a whole than natural-born citizens.
• The administration's false claim that 4,000 suspected terrorists have been captured at the border was called out over the weekend by, of all places, Fox News. The actual number of suspected terrorist border-hoppers? Try six.
• Polls consistently show that strong majorities of Americans oppose Trump's wall proposal.
As Trump and the GOP try to blame Democrats for the shutdown — despite Trump confirming in a nationwide broadcast that the shutdown is all his — it's important to remember how it started: All sides, including Trump, had a deal to keep the government open, then Trump scuttled it because he couldn't stand up to a little right-wing heat.
This shutdown isn't the result of the two parties bargaining in good faith and merely being unable to reach agreement; it's the result of a president making an irrational demand at the behest of extremists in his base, and then steering the nation off a cliff when Democrats wouldn't agree.
If Trump demanded $5 billion to throw himself the biggest campaign rally in history, and he threatened a government shutdown unless he got it, would anyone blame Democrats for not agreeing to it?
Because that's essentially what's going on here. And that's the truth.