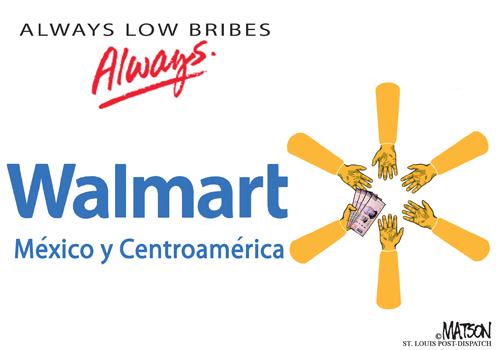 In 2007, the Mexican chapter of the good-government group Transparency International reported that the average Mexican family spends 8 percent of its annual income on bribes.
By that standard, the $24 million that Wal-Mart de Mexico (Walmex) allegedly paid in bribes over several years to grease the retailer's expansion ranks as a bargain on a Walmartian scale. Walmex, Mexico's largest retailer and home to one in every five Wal-Mart stores worldwide, has revenue of more than $1.4 billion a year. Eight percent of that would be $112 million, and that's just one year.
That's not how the U.S. Justice Department is looking at it. It views the $24 million in bribes — disclosed last Sunday by The New York Times — as a possible violation of the Foreign Corrupt Practices Act. That 1977 law prohibits individuals or businesses from offering anything of value to a foreign official "to secure any improper advantage in order to obtain or retain business."
Wal-Mart shares dropped 5 percent on Monday following the disclosures and remained down all week. Wal-Mart could absorb even a multi-billion-dollar fine without serious damage, but the bribery scandal could cause heads to roll at corporate headquarters in Bentonville, Ark. Investors don't like uncertainty.
In 2005, a former Walmex officer blew the whistle on his former colleagues, sending an email to Bentonville that laid out the scheme in detail. The firm investigated, found there was truth to the charges, and then shoved the whole thing under the rug.
All together now: It's not the crime that gets you, it's the coverup.
It is possible to do business in Mexico without paying bribes, but it's not easy. The practice of demanding "La Mordida" — The Bite — for official and unofficial services is pervasive. Have a car accident? La mordida makes the charges go away. Need a building permit? Una mordida for the inspector and another for his boss can make it happen. Otherwise, you can grow old waiting.
How many more bites, then, would it take to build hundreds of new Wal-Mart and Sam's Club stores? The company was in a hurry, The Times reported, because it was trying to get so far ahead that the competition never would catch up.
Each store in every location would require a separate round of mordidas. Walmex hired "gestores," professional fixers, who charged 6 percent of the amount of the bribe for knowing which wheels to grease.
It is not our habit to feel sorry for $220 billion corporations, but we almost can feel sorry for Wal-Mart executives, at least up until the point that they decided to try to bury the story. The Corrupt Practices Act was a post-Watergate reform aimed at corporations doing business at national government levels; it never contemplated a retail chain trying to build hundreds of stores in hundreds of locations, each of which had its set of palms needing grease.
The fact is that even the United States government pays bribes. The "Great Sunni Awakening" that shut off the worst of the insurgency in the Iraq War was made possible by payments to tribal leaders. In Afghanistan, the U.S. military routinely paid off warlords, including some with ties to the Taliban.
And then there all the U.S. politicians taking campaign contributions in return for "access." This is a difference without a distinction.
Views from the editorial board, opinions from guest and national columnists plus the latest letters from our readers.