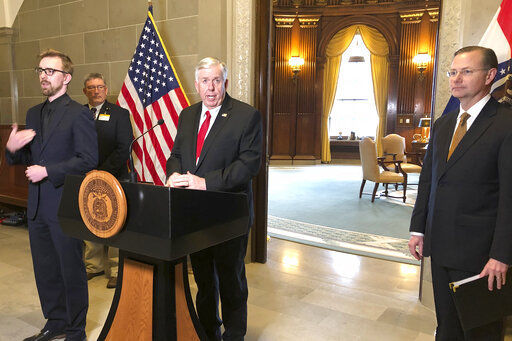 Gov. Mike Parson apparently doesn't like having to answer unfiltered questions from reporters as he tries to reap the maximum political benefit from the coronavirus crisis. So he has imposed a rule banning reporters from his daily briefings — even though other governors have found ways to make themselves directly accessible to the news media while abiding by social-distancing protocols.
Although reporters could easily connect with Parson through online teleconferencing software, the governor instead requires them to submit questions by email an hour in advance. After sifting, he answers the ones he likes.
It's a far more deft strategy than President Donald Trump's dictatorial admonishment for reporters to shut up, sit down and stop being "nasty" when he doesn't like their questions. But the result is the same: An insecure politician facing uncomfortable questions opts to dodge and evade rather than be accountable.
The questions and, more importantly, Parson's answers should matter to all Missourians regardless of their political stripes. It was Parson's decision last week to shut down public schools across the state for the rest of the school year and force teachers and students into an improvised, online classroom environment. How is attendance enforced? How is performance assessed? How will low-income students without internet access be accommodated?
Go online for the briefing transcripts where such questions might be posed. There's nothing there. Just a parenthetical reference to the fact that questions were taken. Reporters' questions themselves aren't listed, nor are the answers.
How will Parson disburse some of the billions of dollars going to the states through the federal $2.2 trillion economic rescue package? Or even just the $54.6 million in federal funds for emergency education relief? Here's what the governor's transcript says:
"These dollars allow us to provide emergency support for K-12 schools, higher education, and other education institutions impacted by COVID-19. Today, [Education Commissioner Margie] Vandeven is here to provide more details. (COMMISSIONER VANDEVEN SPEAKS) Thank you, Commissioner Vandeven."
That's it. Who knows what Vendeven said? Since reporters aren't necessarily told in advance what topics the governor will raise, they have no way of anticipating what questions to ask or how to follow up on the delivered remarks.
"Our local and state governments should be protecting press access so that their communities have access to credible reporting in these uncertain and confusing times," said Nora Benavidez, a director at the Pen America press-freedom organization. "Instead, the governor's new press restrictions will hinder reporters' ability to cover what is happening in Missouri. ... There is no excuse for actions that limit Missourians' access to information in this critical moment."
She's right, there is no excuse for this hide-and-seek routine. Perhaps Parson should adopt "Mr. Cellophane" from the musical "Chicago" as his campaign theme song heading into November: "You can look right through me, walk right by me, and never know I'm there."
Views from the editorial board, opinions from guest and national columnists plus the latest letters from our readers.