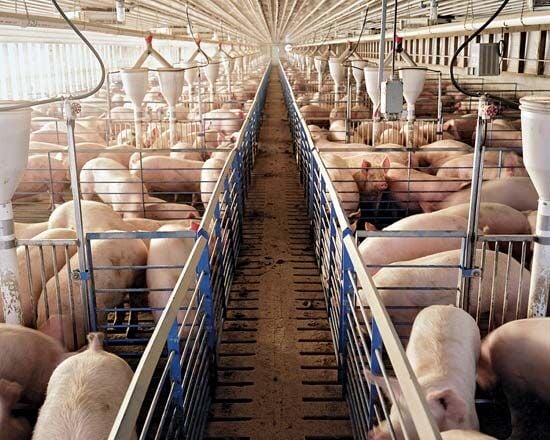 Last week, when Smithfield Foods CEO Larry Pope told analysts that the giant meatpacking firm had agreed to be acquired by the Chinese firm Shuanghui International, he mentioned that talks had begun back in 2009.
That might have been nice to know back in 2011 when lobbyists for Smithfield's Premium Standard Farms unit were haranguing the Missouri Legislature. Premium Standard convinced the Legislature and Gov. Jay Nixon that they should grant the company the right to steamroll its neighbors in northern Missouri.
At issue were the odors coming from Premium Standard's 63 hog farms and nine giant CAFOs (confined animal feeding operations) in seven counties. Some of the company's neighbors had won million-dollar judgments on claims that Premium Standard effectively had ruined their property.
The Legislature passed, and Mr. Nixon signed, a bill declaring Premium Standard's properties as "permanent nuisances." That meant that neighbors would get one shot at Premium Standard in court, not one shot every few years or so.
This limited the options for many small farmers and landowners. They might be able to sell their land, but they were unlikely to find buyers for their homes.
As Richard Oswald, a farmer in Langdon, Mo., and president of the Missouri Farmers Union, put it in an email, "When the General Assembly limited judgments against Big Pig for pollution and property degradation, we thought they gave our property rights away to Smithfield. As it turns out, they gave them to China."
Would it have made any difference? Probably not, though it would have been fun to watch rural conservatives twisting themselves into knots over giving away their constituents' property rights to the People's Republic.
(Here we should take a moment to get some names straight. Premium Standard was a stand-alone company when it came to Missouri 20 years ago. Smithfield acquired it in 2007. Two weeks ago, Smithfield made Premium Standard part of its 12-state livestock production subsidiary, Murphy-Brown LLC. What was Premium Standard is now called Murphy-Brown of Missouri LLC. And, if federal regulators approve the deal, everyone will be part of Shuanghui).
By whatever name, Big Pig has kept large parts of northern Missouri afloat since coming to the state. In 2011, the University of Missouri Extension Service estimated that Premium Standard and Farmland Foods, another Smithfield unit, accounted for 5,200 direct and indirect jobs in Missouri.
Not only do the firms operate their own farms, they also contract with Missouri farmers for pigs and hog finishing and buy feed grains from Missouri growers. In all, Big Pig puts $1.1 billion a year into Missouri's economy.
This is what globalization means: A hog farmer in, say, Daviess County, Mo., could soon be growing hogs that will be butchered, flash-frozen, put in 40-foot freezer containers and shipped, at 20 degrees below zero, in what's known as the "cold chain" to a dinner table in China.
The carbon cost is enormous and it's a hugely inefficient way to provide food proteins. But China's burgeoning middle class wants to eat like westerners do. To meet demand, China not only needs to import pork from the United States, it needs the factory farm technology that U.S. firms have perfected.
From a geopolitical point of view, a nation is more likely to get along with a nation that feeds it and in which it is heavily invested. From a Missouri farmer's point of view, it's a good deal, too. Americans are eating less meat, but the rest of the world wants more. Demand for the corn that goes into hogs helps keep U.S. food prices high. And combined with the ethanol mandate for gasoline, it contributes to high prices for gasoline.
On the other hand, should China become as efficient at producing pork as it is, say, in producing electronics, it wouldn't be particularly good for Missouri farmers. Given China's spotty record of food safety, it wouldn't be particularly good for Missouri consumers, either.