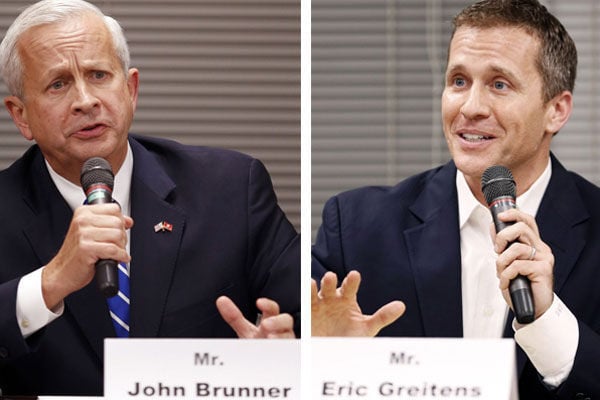 Some very bush (small b) league political talk from a St. Louis-area gubernatorial candidate this week made us yearn for the days when a well-timed and deftly executed zinger was worthy of envy in government circles.
Really, anyone can call anyone else a weasel, a coward and a liar. Where's the originality in that?
Those are the names Eric Greitens, a candidate for the Republican nomination for governor of Missouri, called John Brunner, another candidate for the GOP governor's nomination, in a regrettable effort to get him to 'fess up to some campaign shenanigans.
A trek through political put-downs of note is a reminder of a time when language could be used as skillfully as a scalpel to deflate an opponent. Here are some examples:
• The late Texas Gov. Ann Richards famously described President George H.W. Bush this way: "He was born with a silver foot in his mouth."
• Harold L. Ickes, secretary of the interior during Franklin D. Roosevelt's administration, had this tart comment about former Louisiana governor and U.S. Sen. Huey Long: "The trouble with Senator Long is that he is suffering from halitosis of the intellect."
• Closer to home, Pat Buchanan, an editorial writer and editor for the St. Louis Globe-Democrat in the 1960s and two-time candidate for the Republican nomination for president, said about President Bill Clinton: "Bill Clinton's foreign policy experience is pretty much confined to having had breakfast once at the International House of Pancakes."
The British are particularly good at this sort of thing. Speaking about Prime Minister Margaret Thatcher, Parliamentarian Jonathan Aitken said: "She probably thinks Sinai is the plural of sinus." British Prime Minister David Lloyd George said about the noted British politician, Sir John Simon: "The right honorable and learned gentleman has twice crossed the floor of the house, each time leaving behind a trail of slime."
The one thing Mr. Greitens has going for him is that his conversation with Mr. Brunner was being recorded without his knowledge. Maybe when he's speaking on the record, he will tune up his rhetoric and come up with something witty.
Until then, he ought to watch what he says on the phone.
​Deb Peterson • 314-340-8276
@debschmooze on Twitter