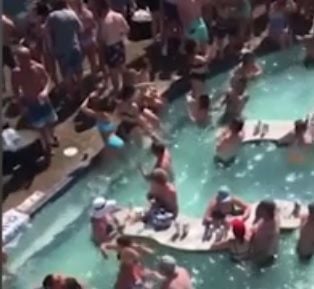 Regarding "Ozark revelers might soon meet an unpleasant fate" (May 28):The Post-Dispatch recently published a letter from a reader, commenting on the revelers in the swimming pool at the Lake of the Ozarks, in blissful defiance of the Missouri social distancing guidelines, on Memorial Day weekend. The writer, in a fit of high dudgeon, stated, "If there is a hell, I hope that the bunch at Lake of the Ozarks winds up swimming in fire and brimstone." The writer, probably considering herself the picture of tolerance and inclusiveness, actually states that she wishes people unlike her to be consigned to hell. Very benevolent, liberal and tolerant, indeed.
After last week's serious spate of rioting, looting and mayhem in St. Louis, rather than swimming pool cavorting, one wonders if the letter writer is still aghast, and incredulous. One wonders, further, if she will state publicly that those parties responsible for the lawless behavior should be consigned to the inferno for all eternity. She would probably say nothing about the rioting and looting, and would save her outrage for the essentially harmless swimmers violating the sacred social distancing guidelines. 
Brian E. Birdnow • Bellefontaine Neighbors
Views from the editorial board, opinions from guest and national columnists plus the latest letters from our readers.