Locally Vetted Nannies, Sitters, & Caregivers You Can Trust
| | |
| --- | --- |
| Sunday | |
| Monday | |
| Tuesday | |
| Wednesday | |
| Thursday | |
| Friday | |
| Saturday | |
Special hours:
After Hours Emergency Service Available.
Our caregivers are available 7 days a week for both day and evening hours, please contact our team for additional details regarding after hours and emergency care services.

TLC Family Care has been the St. Louis area's premier childcare agency of choice for over 35 years. Our owners, Sharon and Stephanie Graff who have both been working moms throughout their careers understand the critical importance of having trusted caregivers to rely on for their loved ones at home. Every day our team strives to provide excellent care support to the families we serve in our community, and we pride ourselves on putting families first and ensuring that each family receives the care providers that are best qualified for their individual needs.
As our business has evolved and grown throughout the years, we have expanded beyond our traditional childcare services to include offerings such as hotel sitting services, newborn care specialist services, corporate back up care, home and virtual tutoring, shopping services, and summer camp programming. In addition to serving St. Louis, we also offer care support nationally in Atlanta, Charlotte, Chicago, Ft. Lauderdale, Miami, Orlando, and Tampa for any childcare needs you may have while away from home with your family.
Learn more about our TLC Home Office Team & Our Caregivers



TLC Family Care Services Offered!
Whether you are a first time parent with a newborn at home, or your student needs tutoring help with their class work, the TLC team is here to support your needs and find the right caregiver to meet your needs.
☼ Permanent nanny placements
☼ Sitters
☼ Newborn-Care Services + Baby Nurses
☼ Hotel sitting
☼ Tutoring
☼ Group Child Care Services
☼ Employer Sponsored Back Up Care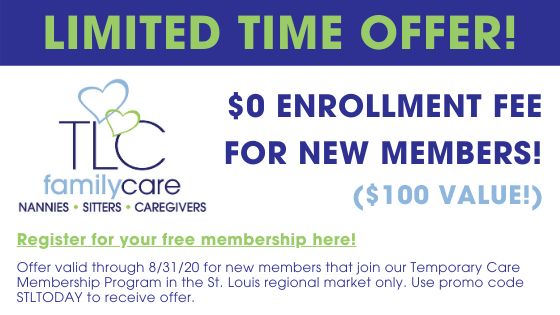 To register with TLC and submit a request for care, please visit our website and complete the registration form.



Accepts:

Cash

Check

Discover

MasterCard

Visa
TLC Family Care offers our Nannies & Sitters flexible schedules, a fun work environment, mutual respect, and we offer ongoing support with job placement. We believe that every person that we bring onto our team is equally as important as the other to achieve success, and we appreciate each person's contributions to the business. If you are looking for opportunities in the childcare field, and you meet our requirements listed below, we encourage you to view our open positions and apply online to join our TLC Family Care Team!
***All candidates must be 18+ with reliable transportation, have high-school diploma or GED equivalent, be CPR + first aid certified, must be eligible to work in the US, have 3 valid childcare references, and complete a criminal background check.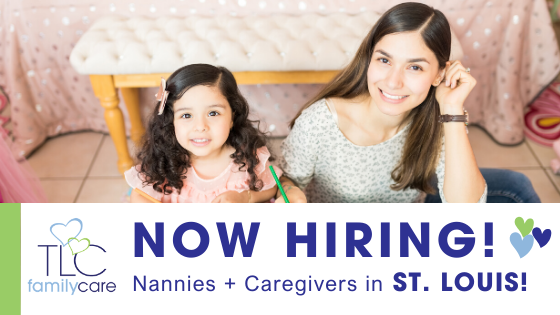 Register for your free membership here!
Offer valid through 8/31/2020 for new members that join our Temporary Care Membership Program in the St. Louis regional market only. Use promo code STLTODAY to receive offer.