Locally Vetted Nannies, Sitters, & Caregivers You Can Trust
| | |
| --- | --- |
| Sunday | Closed |
| Monday | |
| Tuesday | |
| Wednesday | |
| Thursday | |
| Friday | |
| Saturday | |
Special hours:
SUNDAY HOURS: Messages are checked throughout the day.

After Hours Emergency Service Available.
**Caregivers are available 7 days per week for both day and evening hours. Our flexibility allows you to schedule your child care around your specific needs.**
In November of 2015, TLC for Kids, St. Louis' premier nanny and babysitting agency celebrates its 30th year in business. Since 1985, TLC has been providing area families with screened and experienced in-home caregivers and helping caregivers find positions working with families who value their expertise. This year, TLC has extended its reach to care for your entire family by offering non-medical companion care for adults.



Nanny Employment Opportunities:

☼ Full-time and Part-time Nanny
☼ Household Manager/ Housekeeper
☼ After-school Nanny
☼ On-call Nanny
☼ Summer Nanny
☼ Evening/Weekend Babysitter
☼ Evening/Weekend Babysitter
☼ Newborn Caregiver - Day
☼ Newborn Caregiver - Overnight
☼ Tutor Services for Families Services for Families:

☼ Permanent nanny placements
☼ Termporary nannies
☼ Newborn-care services
☼ Gentile Sleep Coaching
☼ Hotel sitting
☼ In-home tutoring
☼ Housekeepers
☼ House sitters
☼ Pet sitters
☼ Non-Medical Temporary & Permanent Companions
☼ Companions/Adult Caregiver

Register with TLC for Kids today!

Since 1985, over 20,000 families have relied on TLC for Kids. Locally owned and operated by sisters Sharon and Stephanie Graff, both working mothers who relied on their nannies for help and support in raising their children, TLC was one of the first nanny and child care agencies in the US. Today, TLC for Kids serves as a national model and consultant to agencies throughout North America.

The TLC office is comprised of parents, household employment experts, human resource professionals, and former child care providers. As pioneers of the in-home child care field, TLC's owners and staff have been active leaders in the international Nanny Association where they helped develop professional standards for nannies and nanny agencies.


TLC Newborn Care Services
---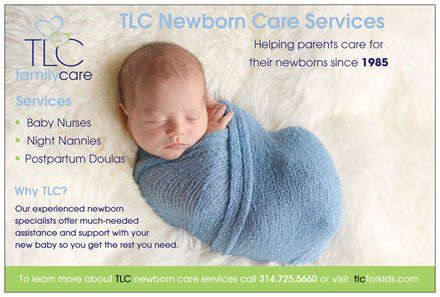 Certified Newborn Specialist Assist With:

Paced Bottle Feeding
Circumcision
Umbilical Cord Care
Caring for Multiples
Caring for Premies
Soothing and Sleeping Techniques
Healthy sleep Routines
Nursery Safety & Organization
Car Seat Safety
SIDS Safety

Postpartum Doulas Also Offer:

Breastfeeding Support
Jaundice Care
Postpartum Nutrition Advise
Emotional Support
Household Support
Meal Preparation
Sibling Care
Facilitating of Partner Bonding With Newborn
Locations
---
St. Louis, Miami, Ft. Lauderdale, Jacksonville, Orlando, Palm Beach, Tampa, and Atlanta.
Meet the Owners
---

Accepts:

Cash

Check

Discover

MasterCard

Visa
TLC Family Care is now hiring in St. Louis, St. Charles, Atlanta, Tampa, Miami, and Orlando
Nannies, Part-time Sitters and Companions.
$14 - $18 per hour.