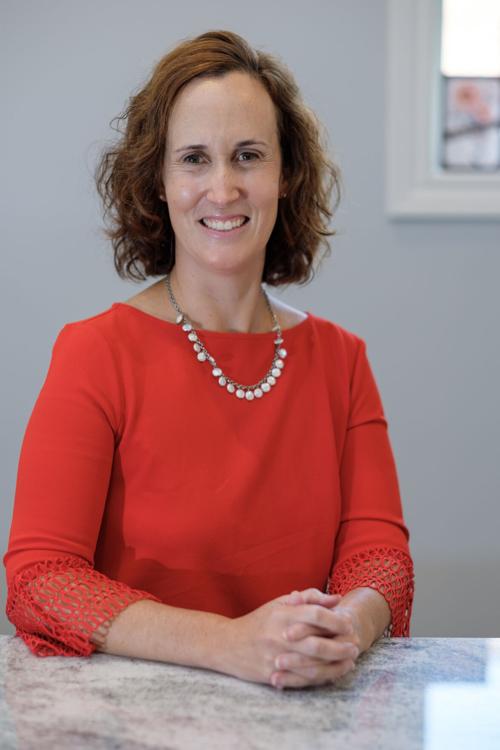 Maureen Barber Hill to Retire in February; ALS Association Board Names Katie McGovern Next President and CEO ST. LOUIS, OCT. 13, 2020 – The Board of Directors of the ALS Association St. Louis Regional Chapter today announced it has named Katie McGovern as president and CEO, effective Feb. 12, 2021. Maureen Barber Hill, current president and CEO, will remain in her role until Feb. 12, 2021, when she retires. To ensure a seamless transition without interruption to the services the chapter provides to the local ALS community, McGovern, who currently serves as the chapter's development director, and Barber Hill will work together on transition planning during the next four months. "After a rigorous, months-long search process involving both internal and external candidates, Katie was the clear choice to lead our chapter into the future," said Josh Rogers, chairman, board of directors. "Katie is wholly committed to our mission. She has a keen understanding of our chapter operations. And most important, Katie has built exceptional relationships across all of our stakeholder groups, including the volunteers and donors who make our work possible, as well as our staff, local board and the national ALS Association." McGovern joined the St. Louis Regional Chapter in 2012. Since then, chapter revenue has increased 92 percent, including a 180 percent increase in corporate giving. As director of development, McGovern has played a key role in these efforts, cultivating strong relationships with the chapter's corporate supporters and individual donors, overseeing its foundation and grant portfolio and managing board giving efforts. McGovern has held positions on a variety of local and national committees with the ALS Association, and her efforts to create the Ice Bucket Bash, a marquee annual fundraising event, helped secure an Innovation Award from the national ALS Association in 2015. "It has been a privilege to serve the ALS community as the St. Louis Regional Chapter's director of development during the past eight years, and I am thrilled to have the opportunity to continue that service in the role of president and CEO," McGovern said. "The ALS community is filled with remarkable people who inspire me daily. The chapter has seen tremendous growth under the leadership of Maureen Barber Hill, and I look forward to working with an incredible staff team, an invaluable volunteer base and our many supporters to carry on that legacy in providing support for families impacted by ALS." Barber Hill, who lost her father, Wayne Barber, Sr. to ALS, has served as chapter president and CEO since 2010. Under her leadership, chapter revenues have grown from $900,000 to $2.5 million, and the number of ALS clinics in the chapter's service area has increased from two to five, allowing more of the chapter's critical services to benefit those struggling with the disease. During Barber Hill's tenure the chapter has received numerous awards and recognition from the national ALS Association, including: • 2011 Chapter with Most Money Raised through Boundless Fundraising • 2012 Chapter with Highest Percentage Increase in Walk Revenue • 2013 Walk Program of the Year • 2014 Chapter of the Year • 2015 Top-grossing Walk Program • 2018 Chapter with Highest YOY Growth from a Gala Event (Ice Bucket Bash) • 2015—2019 Innovation Awards "Our board congratulates Maureen on a truly incredible career with the St. Louis Regional Chapter," Rogers said. "Under her leadership, our chapter has grown our capacity to provide much needed services to people with ALS and their caregivers in our service area, we have expanded our advocacy efforts in support of public policy benefiting our constituents in both Missouri and Illinois, and we have continued advancing critical research toward treatments and a cure for ALS. We are indebted to Maureen and beyond grateful for her unwavering commitment to the pursuit of these priorities, which have benefited the lives of so many and built a strong foundation for the next era of leadership for our chapter." "I congratulate Katie on her appointment and look forward to working with her on the transition," Barber Hill said. "Having worked closely with Katie for many years, I am highly confident that under her leadership, the ALS Association St. Louis Regional Chapter will flourish long into the future to ensure those we serve will have the quality care they so deserve. Her appointment also demonstrates the strength of our chapter's succession planning and talent pipeline. "It has been an honor to lead our chapter over the last 10 years," Barber Hill added. "I have been humbled by the commitment and hard work of our people, and their passion for our mission and our vision of a world without ALS. I am very grateful to them, as I am to the many other stakeholders, with whom we have worked with to build and grow our chapter's programs and services through successful collaborations and fundraising efforts. I look forward to staying engaged with the ALS community to continue to support people battling ALS ... I'm in it for life." The chapter will share more information about leadership transition planning for its development team in the coming weeks. About ALS and the ALS Association St. Louis Regional Chapter: Every 90 minutes, someone is diagnosed and another person dies from ALS (Amyotrophic Lateral Sclerosis). The disease attacks nerve cells in the brain and spinal cord, leading to muscle paralysis throughout the body. ALS affects one's ability to eat, speak, move and breathe. An estimated 30,000 Americans have ALS at any given time. Currently, there is no cure or effective treatment to halt the progression of ALS. The disease knows no racial, ethnic or socioeconomic boundaries, but military veterans are twice as likely to die from the disease as members of the general public. The ALS Association St. Louis Regional Chapter provides people with ALS and caregivers with respite care, equipment loans, augmentative communication and assistive technology programs, as well as nutritional supplements, transportation and emergency assistance – free of charge. The ALS Association is the only nonprofit organization fighting ALS on every front. By leading the way in global research, providing assistance for people with ALS through a nationwide network of chapters, coordinating multidisciplinary care through certified clinical care centers and fostering government partnerships, the Association builds hope and enhances quality of life while aggressively searching for new treatments and a cure. To learn more about the Chapter's care services programs, call 888-873-8539 or visit www.alsa-stl.org.
The business news you need
With a weekly newsletter looking back at local history.