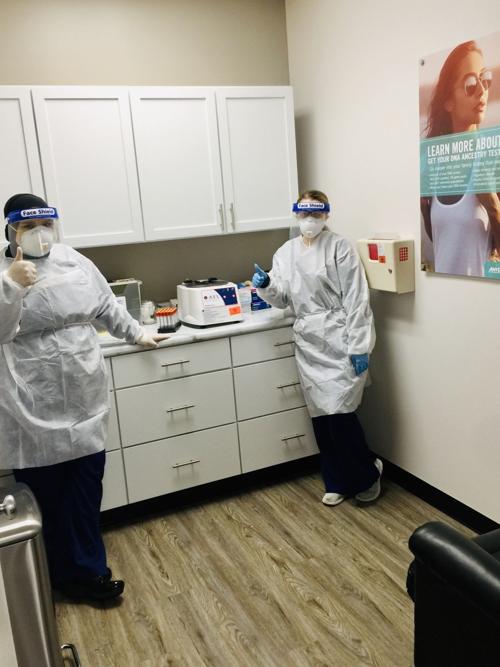 ANY LAB TEST NOW Easing Concerns During Pandemic
Local Customers Getting Direct Access to COVID-19 ANTIBODY TEST
Clayton, MO – (May 14, 2020) – Local families worried about potential exposure to COVID-19 over the last few months can now get their blood checked at Any Lab Test Now to see if they have antibodies to the virus which causes coronavirus. The federal government has approved the emergency use of the COVID-19 Antibody Test that Any Lab Test Now is offering.  Any Lab Test Now is the nation's leading provider of direct access lab testing, with more than 180 locations nationwide including the Clayton, MO store at 444 S. Brentwood Blvd.
"This COVID-19 Antibody Test is providing a crucial answer to a question so many people are still asking, 'Have I been exposed to the coronavirus?'" explains Ken Sandler, franchise owner of Any Lab Test Now in Clayton, Missouri. "Our test does not screen for COVID-19, only for antibodies to the virus. In just a few days after taking the COVID-19 Antibody Test, customers' test results are available in an easy-to-read report, by logging into our secure results portal on a smartphone, tablet or desktop. They can share them with their doctor who can further explain the impact to their personal health."
While customers can usually walk into Any Lab Test Now anytime for services, an appointment is required for the COVID-19 Antibody Test. Each customer must also pass COVID-19 screening protocols before getting access to the COVID-19 Antibody Test. During the screening, Any Lab Test Now employees will perform temperature scans and ask customers questions about potential COVID-19 exposure, as well as symptoms like fever, chills, body aches, within the last 14 days.  
Any Lab Test Now is also following special protocol when conducting the tests. Customers must stay in their car and call when they arrive for an appointment. Any Lab Test Now employees are ensuring the building is safe and clean before a customer walks inside. They are sanitizing countertops, doorknobs, and handles between every customer, wearing government-approved personal protective equipment (PPE) like a facemask and gloves and washing their hands after removing PPEs.
"The new normal created by this pandemic is not just a matter of maintaining social distance from others," says Sandler. "At Any Lab Test Now, we are following strict guidelines in order to provide the quality service our customers expect while also helping them feel at ease during such a time of uncertainty."
Any Lab Test Now in Clayton is offering the COVID-19 Antibody Tests by appointment, Monday through Friday, from 8:30am to 5:00pm.
COVID-19 Antibody Tests at Any Lab Test Now
⦁ 444 S. Brentwood Blvd., Clayton, MO, 63105
⦁ Call for appointment at (314) 290-2228
ANY LAB TEST NOW is a direct access lab testing company that provides thousands of standard lab tests to consumers and businesses in a professional, convenient and cost-effective, transparent manner. With more than 170 facilities around the U.S., ANY LAB TEST NOW offers a variety of affordable and confidential lab tests to consumers and businesses including general health and wellness panels, pregnancy, HIV/STD, drug, paternity and many more tests. To learn more about ANY LAB TEST NOW, visit www.anylabtestnow.com/stlouis-central, like us on Facebook at www.facebook.com/AnylabTestNowStLouisCentralMO and follow us on Instagram at Anylabtest.stl.
The business news you need
With a weekly newsletter looking back at local history.