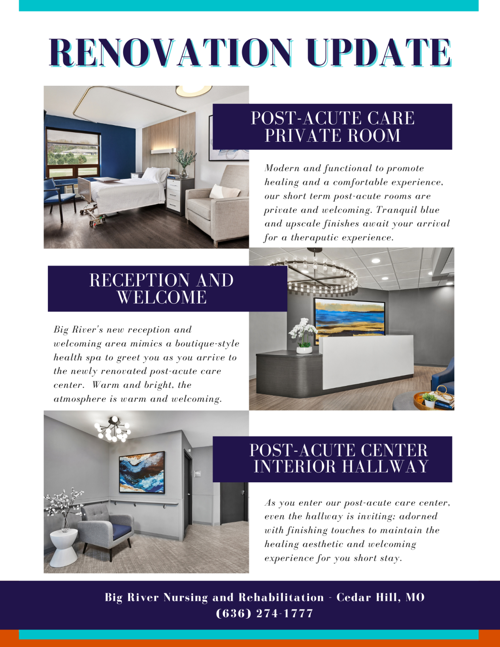 (Cedar Hill, MO)  Big River Nursing and Rehabilitation, a Jefferson County Skilled Nursing Facility recently earned four-star ratings from the Centers for Medicare & Medicaid Services (CMS) for both Quality of Resident Care and Staffing, advancing their overall rating to a three-star.
"We focus heavily on the patient care we provide daily and our team communication," said Katrina Dunham, Big River Director of Nursing. "We make sure we meet the needs of each resident. We focus every day on providing five-star care and services, and continually providing care with a compassionate heart. It's a team effort."
CMS's rating system shows how skilled nursing facilities have fared in staffing standards, quality measurements, and recent health and safety inspections. CMS lists the results on its online tool Nursing Home Compare, allowing consumers to compare and select skilled nursing facilities based on their level of safety, quality of care, and staffing ratios.
"Our goal is to deliver care based on our values: respect, ethics, accountability, compassion, and honesty. We value those we care for, and we value each other," added Dunham.
 "We are honored to have Big River receive an advancement of their overall rating from CMS," said Lori Smith, Chief Nursing Officer. "The ratings reflect our commitment to excellent care and services, and to providing our community with an exceptional post-acute care option. We are dedicated to serving local patients and their families and will remain devoted to meeting and exceeding their healthcare needs."
 About Big River Nursing and Rehabilitation: Big River recently completed an extensive renovation of a post-acute care center featuring private rooms and rehabilitation therapy gymnasium, as well as expanded their clinical services offering to include care of peritoneal dialysis patients in need of short-term skilled nursing and/or therapies.
 Part of the SRZ Management "Reach LTC" family of communities. SRZ "Reach LTC" is the second largest provider of short-term post-acute rehabilitation as well as long-term and specialty care in the state of Missouri.  SRZ-Reach LTC Communities lead with their core values and the foresight of providing high acuity and specialty programs as the industry transitions into the next iteration of post-acute care. From Five-Star Quality Ratings to a dedicated and caring staff, resident care, wellbeing, and satisfaction are always on the top of SRZ-Reach LTC's priority list.