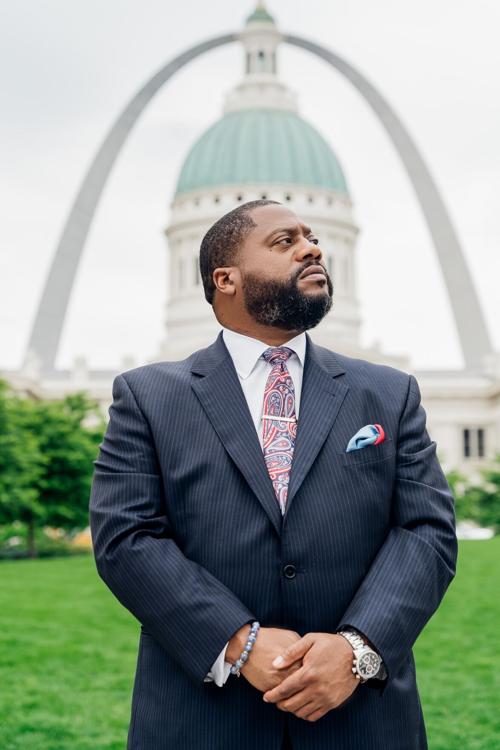 EFFINGHAM, ILLINOIS – May 18, 2021 – Midland States Bank is pleased to announce that David Noble, Director of Community Economic Development, will serve in an expanded role as Market President for the St. Louis Region.
Noble, a longtime resident of the St. Louis area, will lead the Bank's business relationships in the St. Louis region as well as continue to serve in his corporate role implementing Midland's Community Economic Development structure and strategy throughout Illinois and St. Louis.
"David has built many relationships within St. Louis. His natural understanding of the market - its strengths and opportunities - has been pivotal for our Community Development Strategy. In his new role, his holistic approach to connecting a community's needs to Midland's solutions will provide our customers continued support," commented Jeffrey Ludwig, CEO of Midland States Bank.  
His added responsibilities as Market President will provide leadership to the commercial banking team, establish and maintain ongoing relationships, and support cross-functional relationships that promote customer relationship development, including business connections to consumer and wealth management product sets.
"David's expertise in community and economic development, the mortgage industry and CRA and Fair Lending is an important asset to our company," stated Jeff Mefford, Midland States Bank President. "We saw these skills in him when he served previously as our Community Development and CRA Officer for Midland. We are excited that he will continue to help our corporate strategy and be an interconnected business leader in our St. Louis market."
"I am honored to expand and deepen my service to Midland and to the community that I live, work and play in," commented Noble. "To me, banking naturally focuses on community economic development and, conversely, community economic development on the business of banking. Our region, state and country need committed, thoughtful and intentional 'community builders' who can work together to build stronger and more prosperous communities."
Noble earned his Bachelors of Science in Organizational Studies and Masters of Science Degrees in Urban Planning & Development from Saint Louis University. He currently holds multiple board positions, including NACEDA Community Development Council, Member; Housing Action Illinois, Director; St. Louis Equity Fund (SLEFI), Director; Investment Committee, Christian Hospital Foundation, Vice Chair and Treasurer; VetBiz, Community Advisory Board; and Community Builders Network, Director and Treasurer. David also belongs to the following organizations: American Planners Association, Urban Land Institute and Council of Development Finance Agencies.
About Midland States Bancorp, Inc.
Midland States Bancorp, Inc. is a community-based financial holding company headquartered in Effingham, Illinois, and is the sole shareholder of Midland States Bank. As of March 31, 2021, the Company had total assets of approximately $6.88 billion, and its Wealth Management Group had assets under administration of approximately $3.56 billion. Midland provides a full range of commercial and consumer banking products and services and business equipment financing, merchant credit card services, trust and investment management, insurance and financial planning services. For additional information, visit https://www.midlandsb.com/ or https://www.linkedin.com/company/midland-states-bank.