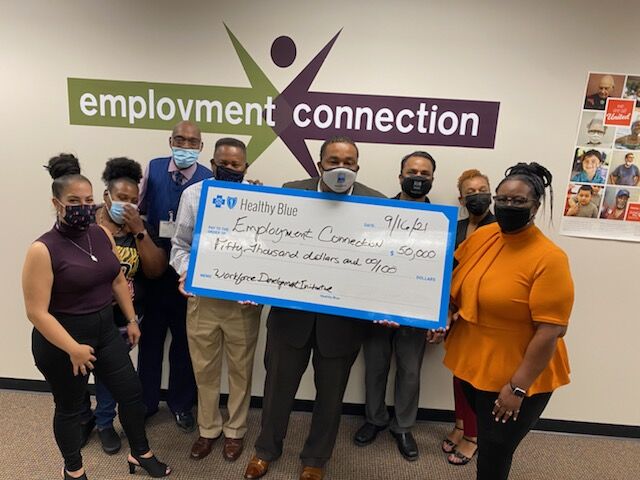 Employment Connection Receives $50,000 from Healthy Blue Missouri for Workforce Development Program
St. Louis, Mo. – Employment Connection received $50,000 from Healthy Blue Missouri to support their workforce development programs which will provide job skills training, employment supplies including clothing, transportation assistance to and from job locations, housing and utility support for those seeking employment, as well as assisting families with childcare costs.  
Employment Connection is a 40-year-old nonprofit in St. Louis that breaks down barriers to self-sufficiency for individuals with limited opportunities including the homeless, justice involved, U.S. veterans, high school dropouts, at risk youth and individuals receiving public benefits.
"We are very fortunate to be able to serve our clients through this partnership with Healthy Blue," said Sal Martinez, CEO of Employment Connection. "Many of our clients want to work, but they can't find jobs because of underlying issues they may have. Through this partnership with Healthy Blue, Employment Connection will be able to assist more clients in overcoming their underlying issues that are keeping them from finding living wage work."
Missouri communities face a wide range of challenges that impact quality of life. These factors, known as social drivers of health, are "conditions in the places where people live, learn, work, and play that affect a wide range of health and quality of life-risks and outcomes," according to Centers for Disease Control and Prevention. As much as 80 percent of a person's health status is influenced by drivers of health.
"We know each individual faces a unique set of challenges and has their own path toward achieving self-sufficiency and career goals," said Jeff Davis, Healthy Blue President. "By addressing the social drivers of health, we can improve economic opportunities for local Missourians seeking employment through education access, job training and skills development, housing support, and additional resources to encourage personal health and wellness. Healthy Blue remains committed to providing innovative tools by connecting people with resources to overcome barriers and gain meaningful and lasting employment."
Healthy Blue's funding will support Employment Connection's Competitive Employment Program (CEP). Participants in CEP undergo a "soft skills" class that covers how to conduct a job search, resume writing, interviewing and basic workplace conduct. Clients then receive a behavioral health assessment, with counseling available through a partnership with Saint Louis University. Participants are paired with a Career Specialist who assess the participants strengths and interests, matching those with available job openings. The Career Specialist also provides participants with ongoing case management, wraparound services including housing assistance, mental health support, clothing, transportation, food and PPE.
Candidates interested in learning more about the program should contact Employment Connection at 314-333-JOBS, by vising their headquarters at 2838 Market St., St. Louis MO, 63103, or on the web at https://www.employmentstl.org/.