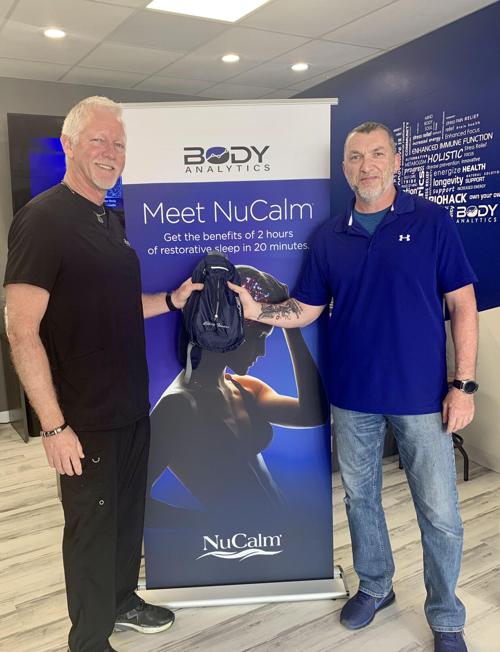 Hi -  You did a story a few months ago about the gifting of the high-tech NuCalm stress-relief units to two St Louis veterans. Now they have been using the units -- and here are their results.  Your audience will be interested.  Thanks!   - Stan Hurwitz     (presentation photo attached - a 2nd is available.)
----------------------------------------------------------------------
BODY ANALYTICS      Harper Health LLC                                                                 4282 Telegraph Rd., St. Louis, MO           Body Analytics / OsteoStrong
Contact: Johnny Harper, President & CEO – (505) 977-8768    /    www.bodyanalytics.fit
PTSD Treatment Systems Are Gifted to Two St. Louis Combat Vets
High-Tech System Repairs 'Invisible Injuries' for Trauma Victims
ST LOUIS, MO (Issued APRIL 2021) -- Two Saint Louis area combat veterans -- who have been dealing with effects of Posttraumatic Stress Disorder (PTSD) since returning from deployment many years ago – have been gifted a new weapon in their battle to deal with the mental health problems that are common after experiencing life-threatening events like combat.
With the help of Laura and Johnny Harper, owners of Body Analytics, the only holistic-approach wellness facility of its kind in metro St. Louis, and Wayne Kaufman of The Kaufman Fund (https://www.thekaufmanfund.org/ ) veterans program supporter since 1990, Sven Hunt and Jay Harden received their own NuCalm stress-relief systems. NuCalm is one of the unique treatments offered at Body Analytics. (Photo: Johnny Harper (left) presents NuCalm unit to vet Jay Harden).
Wayne Kaufman, President of The Kaufman Fund, said, "For over 30 years, The Kaufman Fund has supported veterans in need.  A couple years ago we created our Mental Health Initiative along with the VA and seven social service organizations.  We're excited at what the great folks at NuCalm are doing to help veterans with the PTSD so many are dealing with, and want to help them get the word out to our veterans that there is help for their condition."   
According to Jim Poole, CEO/President of Solace Lifesciences, maker of NuCalm (www.NuCalm.com ) , "Over the last decade, the revolutionary system has helped thousands by 'hijacking' and rewiring the midbrain to give it a rest from nonstop stress (cortisol) production." A 45-minute session provides the equivalent of 2 – 3 hours of deep, restorative sleep and has lasting effects." FDA-cleared NuCalm uses a biosignal processing disc and neuroacoustic software presented via a mobile app. The award-winning system is drug-free and non-invasive with no side effects. It has won top honors at the Consumer Electronics Show, was featured on The Today Show, and is used by professional athletes including the NHL and MMA.
One of the St. Louis vet NuCalm recipients is Navy Chief Sven Hunt who served in a field artillery unit during Operation Desert Storm and saw action in several other combat theaters. He retired from the military after 10 years of active duty and was first diagnosed with chronic PTSD in 1992. He has a range of symptoms including sleep apnea, anxiety, depression, anger issues, insomnia, and hypervigilance. He has attempted self-harm. Along with counseling, Hunt has tried horse therapy and uses a service dog donated by the Elks Lodge.
Another vet recipient is Jay Harden of Wentzville, MO, who suffers from both childhood and combat trauma. He  proudly flew 63 combat missions as a B-52D navigator and returned his crew safely back to base every time.                                                               
In one mission involving 60 B-52s over Cambodia, he estimates the mission destroyed an enemy division of 10,000.  Harden says, "I finally realized I had the power of God, of life and death in my hands, and I knew they were going to die in 45 seconds while I sat in my ejection seat hardly without a sweat. I was an immature 25 year-old."                                                                                            
He recalls, "All this became painfully clear when my wife wrote me on my birthday to say we were going to have a baby, our first. I could not reconcile these facts of life and death. Still can't.  The VA says I am 100% disabled for PTSD. I have buried two wives who understood and still loved me. I am amazed I'm still here."
Harden has been using his NuCalm system for a few months. He describes the sessions: "I felt a pervasive calmness that I had only known years ago at an ashram in India practicing meditation. The sounds in the headset seemed to blend into my brain waves. My gurgling stomach became quiet and I forgot about my sprained back muscles. When finished, I had an overall feeling of wholeness."
He adds, "Another session gave me a kind, gentle energy like the surface of a pond with a slight breeze rippling the surface with slow sounds receding and advancing, taking me away like a benevolent goddess looking over me and a baby blue sky washing me with love… I am in between waking and dreaming in color with a comfortable peace. Another session it sparked my creativity and boosted my energy so I could keep going evenly. I felt younger and that more things were possible than before."
Sven Hunt and his wife of Wentzville, MO, both use NuCalm nightly prior to bed time, using dual headphones, listening to the same track for about 30 minutes. It relaxes you from a long stressful day and puts your mind into a relaxed state.   I've tried other things to get relaxed and prepare for a hoped-for good night's sleep.  After numerous deployments and suffering from PTSD, anxiety, hypervigilance, depression and other issues, I finally found a product that helps me sleep longer than I used to.  Most nights I used to awake around 2 a.m. each night -- not knowing what caused the dream or interruption."
(In photo, Johnny Harper (right) presents NuCalm system to vet Sven Hunt.)
He continues, "Since using NuCalm, I notice a difference in sleep and relaxation.  I also use NuCalm to recharge during the day prior to running or while on a run.  It stopped me from being tired and I feel a great amount of energy afterwards. My wife told me when I get stressed to get the headphones and relax.  It's a good partner thing to do to help not just me but my entire mood which helps the relationship. I feel completely reenergized with the NuCalm process. I wish the VA and other groups would provide NuCalm as an additional tool to help veterans relax and get into a different state of mind." 
Johnny Harper met Hunt and Harden at his Body Analytics (www.bodyanalytics.fit) where clients use latest techniques and treatments to deal with a range of health and mental issues such as stress, weight gain,  isolation and more.
FIRST PHOTO:  Johnny Harper (left) presents NuCalm unit to vet Jay Harden.
2nd PHOTO:   Johnny Harper (on right) presents NuCalm system to vet Sven Hunt.