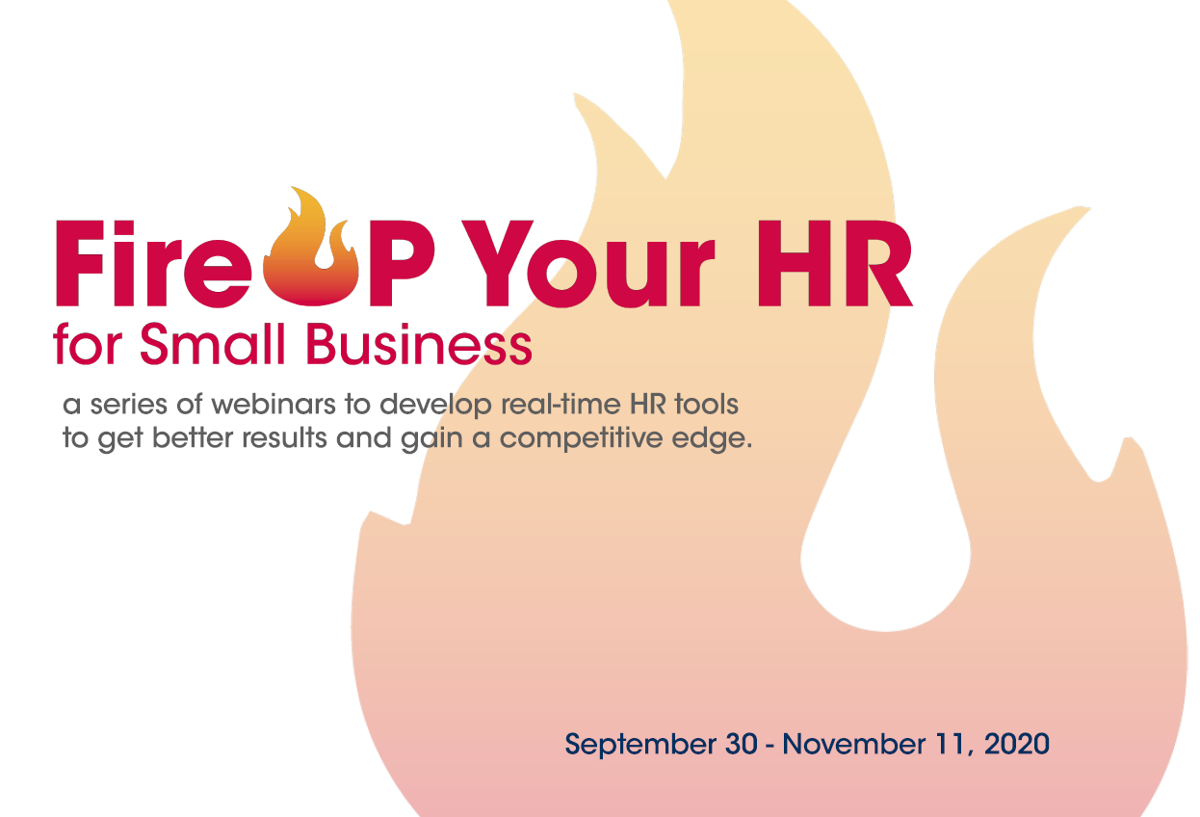 St. Charles, MO – Beginning September 30, the Missouri Small Business Development Center (SBDC) in partnership with the Economic Development Center of St. Charles County (EDC), will launch FireUP Your HR for Small Business, a weekly series of 30-minute webinars designed to help small businesses tackle the most pressing HR issues facing them today.
The series, made possible by funding from the CARES Act, will empower small businesses to develop real-time human resources tools to get better results and gain a distinct competitive edge.
According to Justin Schulz, Director of SBCD at the EDC, the 30-minute format means each presentation will be value packed and concise.  
"Time is a small business owner's most valuable and scarce commodity," Schulz said. "With the 30-minute format, we're ensuring that every minute attendees invest in this webinar series will be impactful and worth the time spent."
Each week, a different topic will be covered. The first training session in the series will be held September 30 from 11:30 am to 12:00 pm. It will be titled Workplace Combustion: COVID-19 Heats Things Up. The session will explore the effects of COVID-19 on the HR function of small businesses and provide real-life strategies companies are using to overcome them.
Additional sessions include:
·       October 7 | The Sparks that Fuel HR – Why HR is Important
·       October 14 | Maintaining the Inferno of HR Systems
·       October 21 | Blazing Through the Basics of Employment Law
·       November 4 | Taming the Wildfires of Hiring and Interviewing
·       November 11 | HR Heroes on Fire
"Your employees are your most valuable asset and drivers of business growth," Schulz said. "This series is designed to help you understand how to increase productivity and optimize your relationships with them to ensure the company performs to its potential."
Visit the SBDC website to view session details, register for the September 30 event, or register for the entire series of training courses.
The Missouri Small Business Development Centers help businesses in every stage from concept to startup, growth to renewal, and maturity to succession. With convenient locations throughout the state, their business specialists use their expertise to help Missouri businesses with critical development issues.
The EDC of St. Charles County is a catalyst fostering growth so businesses, institutions, communities, and individuals flourish and succeed in St. Charles County and metro St. Louis, Missouri. Through our Business Counseling, Business Financing, Business Incubation, Business Attraction and Retention, Community Marketing and Public Policy Initiatives, the EDC has been a trusted resource since 1990.
The business news you need
With a weekly newsletter looking back at local history.