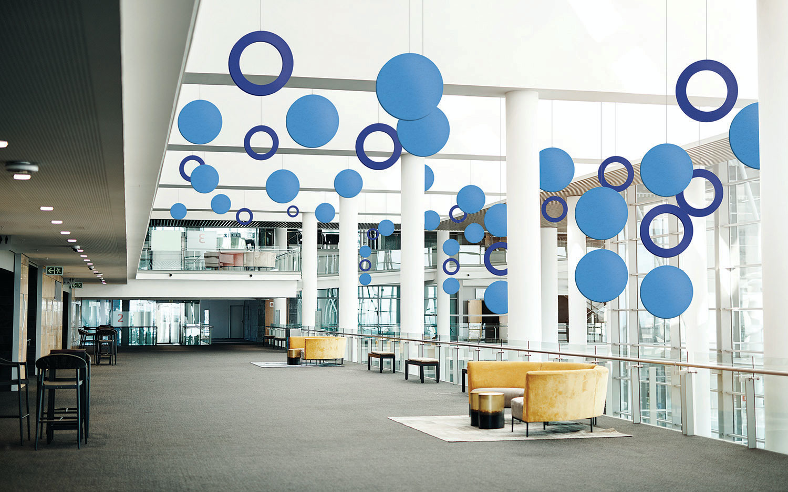 ST. LOUIS – September 1, 2020 – St. Louis-based G&S Acoustics, a leading manufacturer of specialty acoustical wall and ceiling products, has introduced aCapella, its newest line of customized sound absorption polyester panels. The aCapella line features six state-of-the-art sound control products with unlimited design possibilities and an exceptional environmental profile.
"We're encouraging designers and architects to challenge us with their shape and design requests," says Herb Golterman.  "With the aCapella line, design teams can meet their environmental requirements, achieve sound control goals and create an entirely unique aesthetic — all with one product." 
Made with polyethylene terephthalate (PET) bottles and post-consumer waste, aCapella's thermally-bonded polyester acoustic boards produce a low impact on the environment. Recycled polyester provides safe, chemical-free conditions for optimum human and planetary health. These lightweight but durable panels are bleach cleanable (10:1), Class A fire-rated and meet NRC requirements.
The six aCapella products offer acoustical solutions for any project team wanting to combine sound-reducing properties with creative, out-of-the-box and even unexpected panel configurations. Ideal for open-concept places such as office spaces, churches, schools, hospitals, and restaurants, the aCapella line is engineered to create a soothing atmosphere in areas prone to high ambient noise levels. 
From hanging ceiling panels in a bustling cafeteria to dangling circles in an office lobby, there are limitless applications of aCapella products. Available in custom sizes and shapes, designers can choose from a palette of 16 bright colors, which eliminates the need for the products to be wrapped in fabric and makes the panels easy to clean and maintain. 
G&S Acoustics designs and manufactures the aCapella line at its corporate headquarters in St. Louis, Missouri.
The aCapella line features six products — all available in 16 standard colors and can be custom-shaped with approval. 
Provides noise reduction with design elements for open ceiling systemsGrouped panels suspended from an aluminum structure for easy installationAvailable in range, wave, and flat designs
Effective sound control for isolating noise and absorbing sound in open ceiling systemsIndividually hung from existing ceiling grid systems, roof decks or bar joists Available in range, wave, and flat designs
Flat, custom-shaped sound-absorbing panels independently hung from the ceilingSuspended at any angle, depending on desired design and acoustical effectAvailable in open or closed shapes in square, circular, triangular, rectangular, polygon and trapezoid
Flat, sound-absorbing, colorful ceiling tilesMultiple installation methods, including lay-in grids and direct applied with pucks or adhesive mounting
Sound-absorbing ceiling panels suspended in single units or linked together verticallySupplied in open or closed shapes in square, circular, or triangularMix and match up to six in one grouping 
Sound-absorbing wall panels featuring full wall applications, shape clusters and individual shapesDecorative cut-outs in single or different layers of color are availableCreate a comfortable environment by reducing noise reverberationAvailable in square, circular, triangular, rectangular, polygon and trapezoid
The business news you need
With a weekly newsletter looking back at local history.