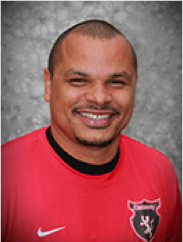 Gateway Sports Academy Promotes Soccer Coach
Promotion: Head Soccer Coach
GLEN CARBON, IL.— Gateway Legacy Christian Academy is happy to announce that Marcos Silva will be promoted to the head soccer coach position as well as the director of soccer of our Gateway Sports Academy Soccer Division.
Marcos Silva is on his third season with Gateway Soccer Academy as a coach. Since he begun to work at Gateway Legacy Christian Academy, the soccer program grew tremendously because of his extraordinary ability as a coach. For instance, in 2018 GLCA soccer team won the National Christian School Athletic Association national tournament, and finished the year as number one in the nation. Also, after an outstanding season Marcos was honored by the NCSAA as the coach of the year; and for the first time, the GLCA soccer team was invited for the most prestigious youth soccer tournament of the world, called Dallas Cup, competing against national and international selected teams. Working extremely hard to develop Gateway soccer players, Marcos is the key to sending over hundreds of players to the most competitive college soccer programs in D1 and D2 NCAA, NAIA universities, and junior colleges. Coaching players from all over the world, Silva walks side by side with his athletes to help them accomplish their goals.
A graduate in sports science from Oklahoma Baptist University and a master's degree in sports administration from Eastern New Mexico University, Marcos Silva has established himself as a well-known soccer coach after a great playing career. Living seventeen years in the United States, Silva was a college soccer player who was a two-year first team All-America at Oklahoma Wesleyan University before transferring to Oklahoma Baptist University. Silva arrived at Gateway to help the school to achieve a higher level of soccer. He was able to bring more talented soccer players who were able to put GLCA name as one of the top soccer program in the Nation. His extraordinary abilities makes him a different level coach on and off the field. His passion for the game allows him to work hard to recruit the right student/athlete to be part of Gateway soccer program. Melissa Morrison, the head master of the school is very pleased to have a coach with such a resume."We are blessed to have Marcos overseas our soccer program" said Morrison, "When he first arrived, we were only a small soccer program. What he has done to get where we are today is unique. College coaches from all over the country know who we are because of what he has done".
Marcos has a strong coaching background, he was the assistant coach for Eastern New Mexico University where he got his master's degree in Sports Administration. As an assistant coach, he recruited talented players to who helped ENMU to battle against top division II schools in the country. After his first season the ENMU had the best winning record of its history. Two years later Silva went back to his alma mater as assistant coach at Oklahoma Baptist University, which was a NAIA school at the time. Silva was not able to win their conference as a player, but as first season coach he won the Sooner Athletic Conference regular season and tournament for the first time in school history. This win took the Bison to the national tournament sweet sixteen once again, and the team were ranked as number seven in the nation.
Marcos has always been involved with youth development. He also spent four years coaching clubs in Oklahoma before joined the Lions.
Please join us in congratulating Marcos Silva in his promotion knowing that he will make our program even better every year.
ABOUT GATEWAY LEGACY CHRISTIAN ACADEMY–  GLCA is an accredited leadership and sports academy that attracts innovators, leaders and athletes from around the world. We have global impact from a local level as we watch our Lions ROAR!