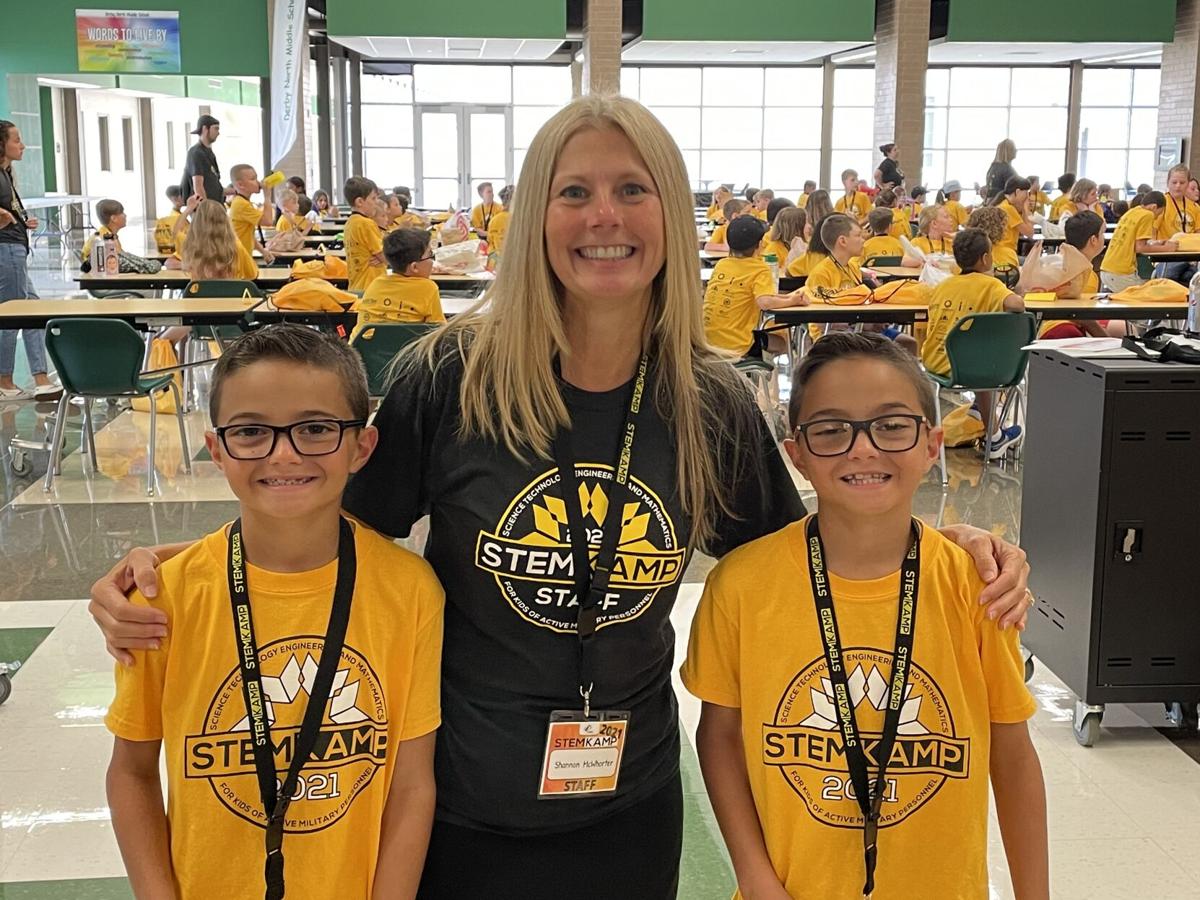 STEMKAMP Program Director
Goshen Education Consulting
On July 26, 143 Mascoutah CUSD19 students, 79% of which are military connected, will embark on a five-day STEM focused summer camp. STEMKAMP (Science, Technology, Engineering and Mathematics for Kids of Active Military Personnel) offers participating students in grades 3-8 fun, hands-on immersive activities designed to help them explore a wide range of STEM careers.
Mascoutah CUSD19 received this contract through a grant funded by the U.S. Dept. of Defense National Defense Education Program to Goshen Education Consulting, Inc. who is partnering with iBIO for the camps. Goshen Education Consulting, a prominent STEM educational evaluation and research center, and iBIO, a nonprofit dedicated to inspiring the next generation of innovators and helping restore America's leadership in technology education, selected Mascoutah CUSD19 based on its connection with families employed at Scott Air Force Base. Goshen Education Consulting was awarded a three-year $2.7 million grant from the U.S. Dept. of Defense for National Defense Education Program in September 2020.
As the largest employer of scientists and engineers in the world, the Department of Defense recognizes the importance of inspiring students to become STEM professionals. Goshen Education Consulting, along with iBIO, have created this new program for third to eighth graders based on published research data that shows by eighth grade, students who express an early interest in pursuing a STEM career are two to three times more likely to graduate with a STEM college degree.
"Over the next decade, it is projected that 80% of jobs will require STEM skills, which makes programs like STEMKAMP all the more important," said Rep. Mike Bost (IL-12). "I was proud to support iBIO and Goshen Education's grant application last year, and I am thrilled that they have received this funding." Former marine Bost wrote a letter of support for the grant application. His district in southern Illinois includes Scott Air Force Base and Mascoutah school district, one of the districts that will be served through the program.
Mascoutah will be the fifth host of STEMKAMP this summer. Shannon McWhorter, STEMKAMP Program Director, said, "It is exciting to watch students' progress during the camp. On the first day, they arrive a bit quiet. As they build and explore each day, their excitement and understanding of STEM really grows."
The STEMKAMP summer enrichment program will impact up to 3,750 children in military families across the United States. Previous STEMKAMPs were held in Cibolo, TX; Greensboro, NC; Derby, KS; and Grand Forks, ND the week of July 19, 2021. In addition to Mascoutah's STEMKAMP, the remaining camps will be held in Sparta, WI; North Hanover, NJ; Fairbanks, AK; Middletown, RI; and Yelm, WA.
___________________________________________________________________
About Goshen Education Consulting
Goshen Education Consulting (Goshen) is a STEM educational evaluation and research center located in Edwardsville, IL. Since its founding in 2009, Goshen has conducted more than 60 educational evaluation and research projects. Goshen specializes in educational data interpretation (evaluation, research, and analysis) for educational organizations in Illinois. Beyond program implementation, its consulting services range from external program evaluation and ad hoc report writing to dashboard development and at-risk student identification. Goshen Education Consulting instills the principles of integrity, locality, clarity, and continuity in its work, which are the keys to the success of a data partner.
The Illinois Biotechnology Innovation Organization (iBIO) is a life sciences industry association that represents the nearly 88,000 life sciences employees at member companies, universities, service providers and venture firms. iBIO promotes the industry's value to the public and policymakers; connects innovators to investment and talent; stimulates collaboration and fosters the next generation of innovators and entrepreneurs to transform patient lives through groundbreaking research and works to grow the Illinois economy.
iBIO EDUCATE delivers industry-led STEM programs for teachers and students, thereby inspiring the next generation of innovators and helping restore America's leadership in technology education. To learn more about iBIO and its programs, visit www.ibio.org.