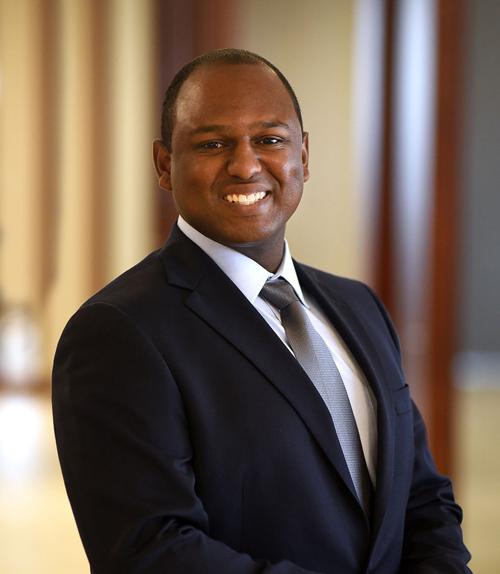 ST. LOUIS – Feb. 12, 2020 – Greensfelder, Hemker & Gale, P.C., is pleased to announce that Zack Smith, an associate in the firm's St. Louis office, has been named to the National Black Lawyers (NBL) Top 40 Under 40 list of leading black attorneys in the United States.
"We congratulate Zack on this very well-deserved honor from the National Black Lawyers recognizing him as an up-and-coming leader in the law," said Greensfelder President and Chief Executive Officer Kevin T. McLaughlin.
Top 40 Under 40 honorees are black attorneys who are under age 40 and have an outstanding reputation among their peers, the judiciary, and the public. The NBL evaluates nominees based on factors including legal achievements, professional memberships, leadership roles, and rankings from other national organizations.
The mission of the NBL is to develop a strong national network of attorneys and promote their legal excellence. NBL members are plaintiff and defense lawyers from all 50 U.S. states who represent law firms from across the nation and specialize in a variety of practice areas.
A member of Greensfelder's Litigation practice group, Mr. Smith focuses his practice on general and complex commercial litigation, arbitrations, and administrative proceedings in jurisdictions throughout the country. He represents companies of all sizes in industries that include energy, franchising, telecommunications, and securities. He also represents clients in toxic tort litigation.
As a member of the Urban Revitalization Clinic while attending Washington University School of Law, Mr. Smith researched laws and policies concerning the St. Louis Board of Aldermen redistricting. In addition, he worked with the law school's Children's Rights Clinic, representing juveniles involved in a variety of legal matters, including arguing a bench trial in an adoption case.
Mr. Smith received his J.D. from Washington University School of Law. He received his Bachelor of Arts from Lindsey Wilson College.
Greensfelder, Hemker & Gale, P.C., founded in 1895, is a full-service law firm with offices in St. Louis, Chicago and Belleville, Ill. Greensfelder offers comprehensive legal solutions for clients locally, nationally and internationally. Areas of practice include business services; communications and media; construction; educational, religious and tax-exempt organizations; employee benefits; employment and labor; energy; franchising and distribution; health care; intellectual property; litigation; real estate; securities and financial services; and trusts and estates. Find out more at www.greensfelder.com.