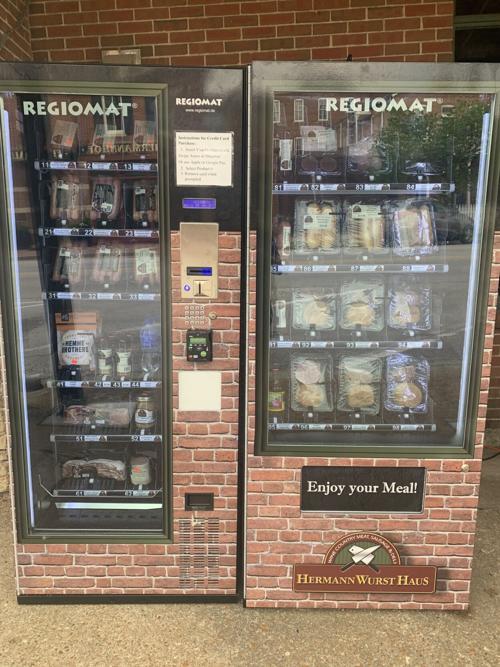 Ribbon Cutting Ceremony at Hermann Wurst Haus for Their New German Meat Vending Machines
Hermann, MO (June 25, 2021) – Family, friends, and dignitaries, joined the Hermann Wurst Haus for a ribbon-cutting and demonstration of Hermann's newest tax producing revenue stream — The Only Meat Vending machine in the state of Missouri from Regiomat and custom built in Germany. Hermann Wurst Haus was vending their products from the machine and handing out samples to kick off their machine just in time for the 4th of July and peak season for Hermann visitors who ascend to the picturesque town by train, plane, boat, bike, or car. Anthony, the German representative was present to answer questions and share his highlights about his 4 day stay in Hermann.
The Hermann Wurst Haus national grand champion smoked meat products such as bratwurst, bacon, summer sausage, snack sticks, jerky and sandwich specials will be available in Hermann 24/7. The German-made meat vending machines were installed this week, with the assistance of the representative from the German company Regiomat, who finally was able to travel to the USA.
Meat vending machines are popular all over Europe, especially in Germany, which has over 4000 Regiomat machines located in farmers markets, store fronts, parks and recreation areas for campers and cyclists.
"We are excited to add these two meat vending machines in front of the store. This will allow visitors and locals to buy top quality meats, with no human contact 24/7. This is perfect for cyclists, visitors who arrive by Amtrak, or if you just have a late-night snack attack. The machines will be stocked with products that change weekly but the focus will be authentic German sausage. We will also have eggs, apple butter, mustard, BBQ sauce, cheese curds, turkey & Swiss sandwiches, ham & Swiss sandwiches, and a variety of bratwurst sandwiches. We will also stock a meal to go for four people such as our breakfast burritos with sauce. Our meats are all locally sourced and smoked right here on site." said Mike Sloan, owner of Hermann Wurst Haus.
The refrigerated machines have many safety features, for example, if the temperature gets too high, they will not dispense food. The machines have frost heaters so on cold winter days, customers can still purchase products. The machine will be stocked daily and accepts credit cards, cash and coins.
The Hermann Wurst Haus is Missouri wine country's premier meat and sausage shop, German-hybrid deli and event location, featuring more than 46 varieties of award-winning bratwurst and sausages, grand champion house-smoked bacon, a line of Wurst Haus ale, lager, wine and craft soda, gourmet foods, and gifts. With more than 70 years of combined experience in the meat processing business, owners, Mike and Lynette Sloan are living and breathing their passion, creating award-winning bratwurst and sausages for all to enjoy.