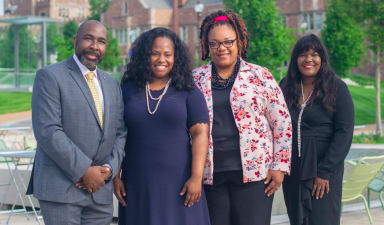 ST. LOUIS, Mo. - Lifespiration LLC, an inspirational marketing firm that is dedicated to delivering purpose-driven marketing to create positive outcomes, recently announced it has teamed up
with Washington University in St. Louis to enhance their supplier diversity.
Lifespiration is in partnership with Washington University's Office of Operations and Technology Transfer to create a social media campaign to increase diversity within its vendors.
"We are thrilled to announce we have engaged with Lifespiration to help us deliver purpose-driven content to focus on growing our impact for women and minority-owned businesses. One of the things we want to focus on is ensuring that we use these relationships not in a superficial way but in critical core mission value ways and this is what Lifespiration is going to do for our organization," Vice-Chancellor of the Office of Operations and Technology Transfer for Washington University, Dr. Dedric Carter said.
Each month, Lifespiration will highlight particular segments about Washington University's
vendor community through social media posts and e-blasts while inviting other minority vendors to register on its supplier diversity portal.
"We are very excited about this initiative to increase economic opportunity for minority
contractors in this area," Anika D. Porter, President & CEO of Lifespiration said.
To learn more about Lifespiration, visit Mylifespirations.com or find them on Facebook and Instagram at "mylifespirations."
More about Lifespiration: Lifespiration is an inspirational marketing firm that helps companies, organizations, groups, and people in general, become emotionally healthy and well. Lifespiration ignites hope and happiness through inspirationally messaged products and campaigns. 
We assist corporations in boosting and maintaining employees' morale. Inspirational marketing tells the consumer your company will bring them closer to their ideal lifestyle, which wins loyal customers.
Motivational content is not just about making people feel better about themselves; it's about showing them how your brand, message, and goods/service can make them feel better about themselves. Inspirational marketing is authentic, relevant, and transparent which helps create trust.