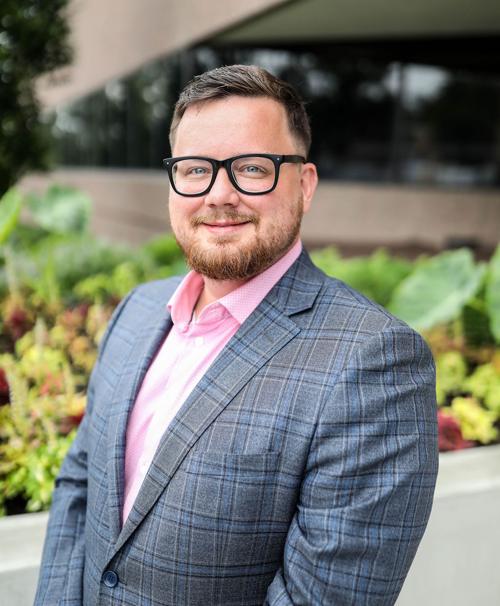 ST. LOUIS, MO. – September 8, 2021 – Jeremy Thomas has been awarded the PACESETTER  award by leading financial security company Northwestern Mutual.
Pacesetter honors financial advisors who set 40 clients on the path to achieving financial security during their first six months in the business through the issuance of life, disability and long term care insurance policies, as well as meeting additional thresholds of performance.
Thomas joined the Northwestern Mutual-Clayton network office and its Chesterfield location in 2021 after a career in the food services industry.
"Jeremy is bright, resilient and client-centric - always caring and putting the clients' needs first," said Douglas Stockton, Growth and Development Director with Northwestern Mutual and a mentor to Thomas. "He is passionate, charismatic and acutely adaptive to changing environments; thus allowing him to be of great benefit and have a massive impact with all those around him. His inquisitive mind is always looking for what's next - continuously thinking of what the best options and solutions are for his clients."
Jim Zara, Managing Director of Northwestern Mutual-Chesterfield said, "Jeremy lives his life with full dedication to service. Everyone around him can feel it and see it. His number one focus is to make sure the clients who work with them are financially secure and meet their goals. That trait has served him incredibly well as a pacesetter platinum in the first 6 months of his business. Only the very top of our industry qualify for this."
A 2013 graduate of Webster University in St. Louis, Thomas received a Bachelor of Arts degree in Speech Communications. He was a member of the school's debate team.
Helping to improve the St. Louis community, Thomas volunteers with Pocket Parks, a group that turns vacant lots in St. Louis into gardens or mini-parks to bring vibrancy to selected areas. He is also a highly skilled chess player.
Thomas currently resides in the Lafayette Square area of St. Louis.  
About Northwestern Mutual
Northwestern Mutual has been helping people and businesses achieve financial security for more than 160 years. Through a holistic planning approach, Northwestern Mutual combines the expertise of its financial professionals with a personalized digital experience and industry-leading products to help its clients plan for what's most important. With $308.8 billion in total assets, $31.1 billion in revenues, and $2 trillion worth of life insurance protection in force, Northwestern Mutual delivers financial security to more than 4.75 million people with life, disability income and long-term care insurance, annuities, and brokerage and advisory services. The company manages more than $200 billion of investments owned by its clients and held or managed through its wealth management and investment services businesses. Northwestern Mutual ranks 90 on the 2021 FORTUNE 500 and is recognized by FORTUNE® as one of the "World's Most Admired" life insurance companies in 2021.
Northwestern Mutual is the marketing name for The Northwestern Mutual Life Insurance Company (NM), Milwaukee, WI (life and disability insurance, annuities, and life insurance with long-term care benefits) and its subsidiaries. Subsidiaries include Northwestern Mutual Investment Services, LLC (NMIS) (investment brokerage services), broker-dealer, registered investment adviser, member FINRA and SIPC; the Northwestern Mutual Wealth Management Company® (NMWMC) (investment advisory and services), federal savings bank; and Northwestern Long Term Care Insurance Company (NLTC) (long-term care insurance).