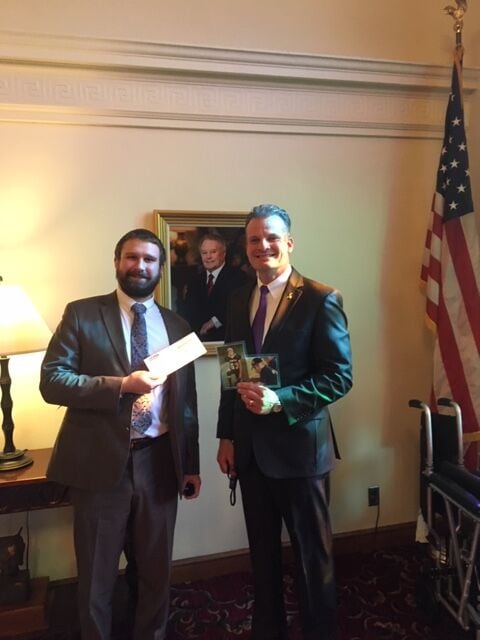 Tom Kutis V, a member of the fifth generation of the Kutis Family, presented a generous grant check to Conrad A. Haubrich Jr. of the St. Baldrick's Foundation—Team Brett.
The St. Baldrick's Foundation is a volunteer driven charity dedicated to funding the most promising research for finding a cure for pediatric cancer. Cancer kills more children in the United States than any other disease, more than many other diseases combined and 1 in 5 children diagnosed with cancer will not survive. Even in light of this grim reality, less than 4% of the National Cancer Institute's budget is dedicated to childhood cancer research.  
With the help of Kutis Funeral Home, Team Brett has raised over $103,000.00 to fund pediatric brain cancer research, with most of that money invested right here in St. Louis through the physicians and researchers at Siteman Kids/St. Louis Children's Hospital. These efforts have helped fund a St. Baldrick's Research Grant that has been awarded to Dr. Josh Rubin at Washington University in St. Louis for his work on medulloblastoma, an aggressive grade 4 brain cancer. Dr. Rubin was one of the pediatric oncologists who treated Brett at St. Louis Children's Hospital, so this award has special meaning.
Kutis Funeral Home is a family owned and operated St. Louis business that has served the community since 1910. The Kutis Family continues their tradition of charity, kindness and service to others by supporting childhood cancer research at the St. Baldrick's Foundation.