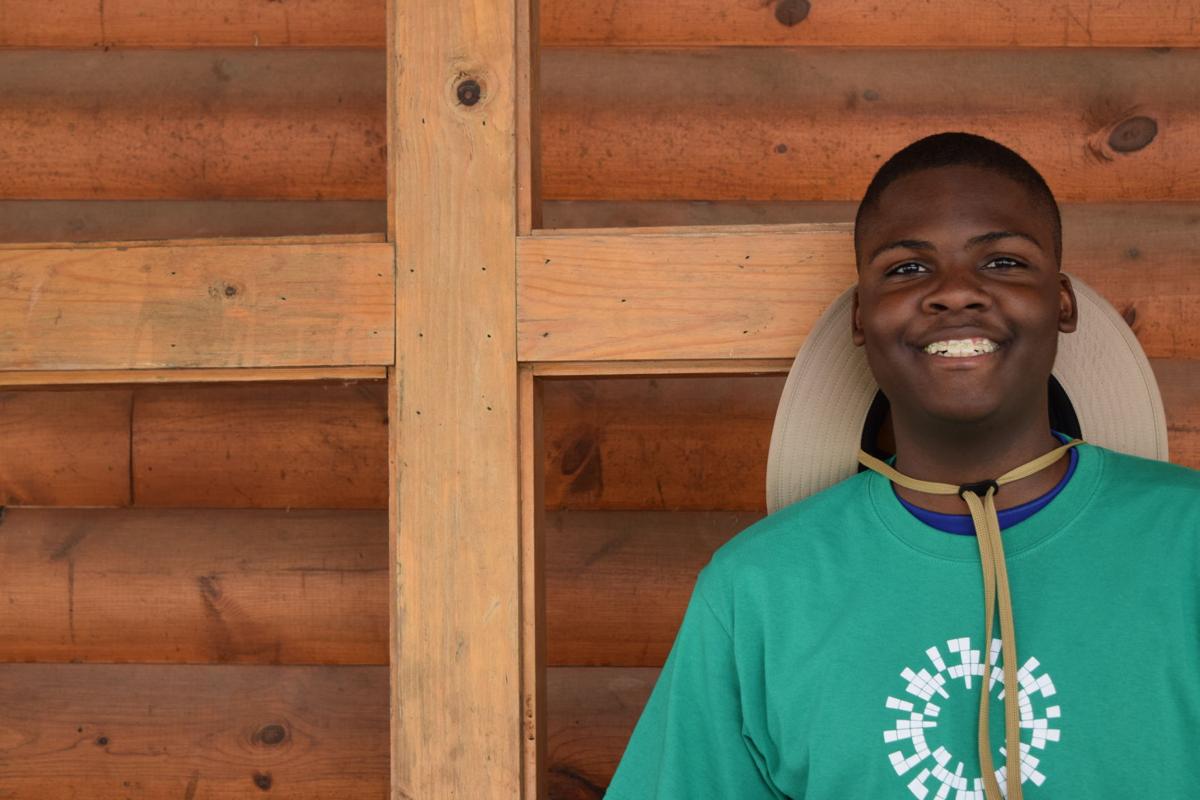 ST. LOUIS, 30 May 2017 – LOVEtheLOU, a nonprofit in North St. Louis, has multiple facets, but STL | Lift, the youth development branch of LOVEtheLOU, is at the forefront of the organization.  LOVEtheLOU and STL | Lift are currently connecting their students to several different businesses, organizations and people to provide a better future for their students.
LOVEtheLOU launched STL | Lift in 2015, and the program is currently serving 25 students ranging from 13-to-18-years-old. 
When Sampa, 19, was in the 7th grade, his social circle consisted of a few close friends who were actively involved in a gang. 
"I didn't have anywhere to go," Sampa, said.  "I prayed and prayed 'God, change me; get me out of this situation that I'm in now.'"
LOVEtheLOU Director Lucas Rouggly met Sampa shortly after that incident (about 6-7 years ago), and he wanted to help Sampa get out of his past situation.
Rouggly introduced him to Lorraine Troyer, a LOVEtheLOU volunteer.  After forming a bond with Sampa, Troyer ended up taking Sampa into her own home.
 Sampa graduated from Carnahan High School of the Future this May.  He is moving to Atlanta this summer to attend Atlanta Sports Academy. 
 Sampa is going to improve as a football player and a scholar.  Afterwards, he plans on accepting an offer to play football at Southeast Missouri State University.
"Because of LOVEtheLOU, I'm right here right now.  Other than that I'd be in jail or dead," Sampa said.
Williams, 17, said, "Before I got plugged in with LOVEtheLOU, my family and I were homeless.  LOVEtheLOU loved me like a family, and they gave me a place to stay."
Like Sampa, LOVEtheLOU connected Williams with Troyer, and she let Williams live with her. 
Williams has recently graduated from Carnahan High School of the Future this May, and LOVEtheLOU and Troyer have connected him with the Payne family.  They own a farm in Pulaski, Iowa, and James will be living with the Payne's this summer before attending Indian Hills Community College in Ottumwa, Iowa.
Payne said, "After talking with Lorraine, we saw that it would be a good fit.  He has a different kind of family.  It takes a larger kind of family.  It takes everybody, whether your kids are struggling or not, to help these kids make their way in the world."
While at school, Williams will be living at Ottumwa Job Corps Center (OJCC) in Ottumwa, Iowa, and he will be able to go back to the Payne's family farm on the weekends.  At OJCC, students receive the skills needed to succeed in today's workforce – at no cost to them or their families (info via OJCC's website).
"This experience is going to be something new, and LOVEtheLOU and Lorraine have been the ones who have gotten me here," Williams said.
Mike Conway owns a property management company in the St. Louis area, and he has offered work to STL | Lift student Alvin Goode, 18. 
 "It's just another way to support LOVEtheLOU," Conway said.  "I want to help keep these kids off the streets by giving them a job.  The only way we are going to fix the division in St. Louis is through economic opportunity."
Rouggly said, "Alvin had very little direction and very little confidence.  He wasn't confident in school or athletics.  Joining up with the program has given him confidence."
 LOVEtheLOU has partnered Williams, 16 and brothers with James, with Boys Hope Girls Hope (BHGH), an international organization centered on cultivating youth empowerment through the foundation of education and holistic support (info via their website).  Williams moved into BHGH's St. Louis location in August of 2016. 
 Prior to BHGH, he stayed at Troyer's for part of his high school education, but before that he didn't have a stable living environment.
Williams said, "Before I got accepted into Boys Hope Girls Hope, I didn't have anywhere to live.  They gave me my own room, bed, food and clothes.  They take school very seriously, and they gave me a good school to go to in a good community with good people." 
Williams has just finished his sophomore year of high school at Maplewood Richmond Heights High School.
Other Connections and the Outlook of the Program
Another organization that wants to help LOVEtheLOU is Southwest Airlines.  A representative from Southwest Airlines has verbally agreed to hire STL | Lift students as LOVEtheLOU recommends them.
LOVEtheLOU and STL | Lift continue to build relationships with more organizations that want to help improve the community and youth of St. Louis.  The end goal for these partnerships will be providing a better future for inner-city youth.
LOVEtheLOU is a not-for-profit community development initiative that connects resources to the needs of the city of St. Louis (PROFILE OPPORTUNITIES AVAILABLE).