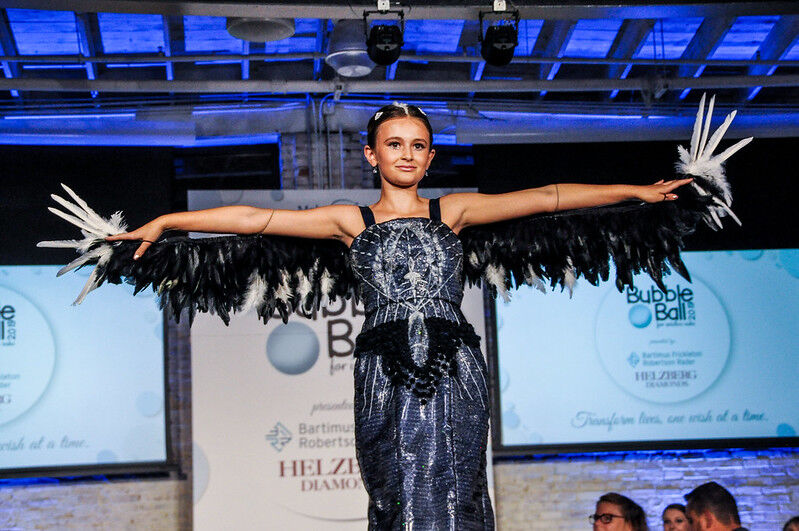 Kansas City, KS (February 22, 2021) Make-A-Wish Missouri & Kansas will be hosting the 4th Annual Bubble Ball of Wishes Sake on March 5th. This signature event will be streamed live from The Abbott in the Crossroads Arts District of Downtown Kansas City for a unique virtual experience to bring awareness to the extraordinary power of hope and healing that a wish come true can deliver for children battling critical illnesses. This virtual and in-person event will include a runway fashion show, with fashion pieces created by local artists and companies using bubble wrap. These unique designs are inspired by local Missouri & Kansas wish kids' favorite movies.
"This is a one-of-a-kind event and this is the first year that we have added a virtual element which will allow us to expand our audience and inspire more people to connect with our mission," said Make-A-Wish Marketing & Communications Director Brian Miller. "It is estimated that each year nearly 600 children qualify for a wish from Make-A-Wish Missouri & Kansas. Our chapter hopes to take a step closer to our vision of granting the wish of every eligible child. This year's event goal is to raise enough to fund an additional 30 wishes for children facing critical illnesses throughout our region."
This one-of-a-kind event will also feature an interactive program with voting on bubble wrap art, a fantastic silent and live auction, mission moments and much more - all to raise vital funds for wishes granted by the Make-A-Wish Missouri & Kansas chapter.
This event is co-chaired by Jeff Eden from DEG Digital and Eric Kruger from Team Drive-Away. Registration is required to participate in the silent and live auction, games, and fashion/art voting. Go to bubbleballKC.com to register for free. All proceeds benefit Make-A-Wish Missouri & Kansas and their efforts to grant wishes to children with critical illnesses.
Make-A-Wish® Missouri & Kansas creates life-changing wishes for children with critical illnesses. We are on a quest to bring every eligible child's wish to life, because a wish is an integral part of a child's treatment journey. Research shows children who have wishes granted can build the physical and emotional strength they need to fight a critical illness. Headquartered in Phoenix, Arizona, Make-A-Wish is the world's leading children's wish-granting organization, serving children in every community in the United States and in 50 countries worldwide. The local chapter is headquartered in Ballwin, Missouri and serves all counties in Missouri and Kansas.
Since 1983, Make-A-Wish Missouri & Kansas has granted more than 8,900 wishes to local children with critical illnesses. For more information about Make-A-Wish Missouri & Kansas and how you can transform lives, one wish at a time, please visit our website (mokan.wish.org) and connect with us on Facebook (makeawishMOKAN), Twitter (@makeawishMOKAN), Instagram (@makeawishMOKAN) and YouTube (MakeAWishMOKAN).